Siamsaíocht ar leith i halla bunscoile leis na Cleamairí Árd Mhacha.
At Saint Patrick's Primary School in Armagh pupils take part in the ancient art of folk theatre with the Armagh Rhymers. Audience participation is key,
Mar is léir, glacann an lucht féachána páirt gníomhach sa bpíosa siamsaíochta seo leis na Cleamairí.
Combining music, song, dance and drama, the Armagh Rhymers keep the centuries old traditions of Mumming, Strawboys and Wrenboys alive.
Drawing their inspiration from old mumming plays, storytelling and ritual drama, their willow masks are based on the traditional ones used by Mummers and Strawboys, influenced by characters from Celtic mythology.
Established in the 1970s they are a renowned traditional music and theatre ensemble, in addition to being Ireland's oldest professional theatre in education company.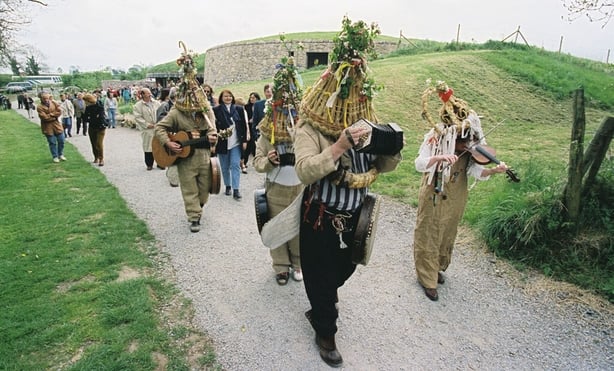 The Armagh Rhymers perform at Eamhain Macha, Navan Fort, County Armagh (1995)
This episode of 'Iris '89' was broadcast on 8 October 1989. The reporter is Maireád Ní Nuadháin.
'Iris' was broadcast from 1986 to 1990.