At Our Lady's Island in Wexford the new King of the Mummers is crowned.
There is music and dancing at a coronation for the newly-elected King of the Mummers.
At sixty years of age Joseph Murphy of Broadway, County Wexford, is the youngest king ever. In his private life, he is a CIÉ (Córas Iompair Éireann) port worker in Rosslare and succeeds King Jimmy Hoare, who died last year.
Performing the coronation ceremony at Our Lady's Island is Leo Carty, Bishop of the Carne Mummers who is also vice-chairman of Wexford County Council.
The connection between the mummers and the County Council dates back to 1959, when James Sommers of Carne was crowned the first King of the Mummers at Rosslare Harbour Tóstal by the Mayor of Wexford at the time, Edward Hall.
Since then a new monarch has been elected annually.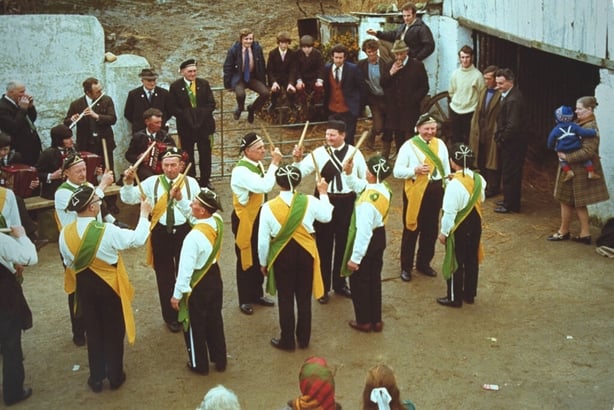 Mummers from County Wexford (1975)
The origins of Mummers and mumming is unclear, but it is thought that this form of entertainment was brought to Wexford by the Anglo-Normans. It has been part of Irish folk tradition for centuries.
Mummers perform music and plays, and wear specific types of costumes. In some parts of the country they wear straw masks. Led by a "Captain" who announces their arrival and asks for permission to perform, they receive food or money as a token of gratitude when the performance is over.
An RTÉ News report broadcast on 7 August 1979. The reporter is George Devlin.