The Limerick Leader newspaper celebrates one hundred years in print.
The first edition of the Limerick Leader was published on Friday 9 August 1889, and staff in its offices on O'Connell Street in Limerick celebrated its hundredth birthday. The Limerick Leader is still owned by the Buckley family.
Cutting the cake is Eileen Wright, whose father Jeremiah Buckley, a chartered accountant and barrister by profession, took over the paper at the turn of the 20th century. He also played a role in setting up the Irish Press.
Jeremiah Buckley spent time in Limerick prison for an editorial he wrote in defence of tenants' rights, and that ethos is still present in the newspaper's offices today, says Editor Brendan Halligan.
We're still interested in the ordinary person, not in the pressure group.
One hundred years ago no one could have envisaged the busy computerised newsroom of the Limerick Leader today. The weekend edition sells over 30,000 copies a week, at sixty pence a copy, a far cry from the first copy, which cost just one old penny.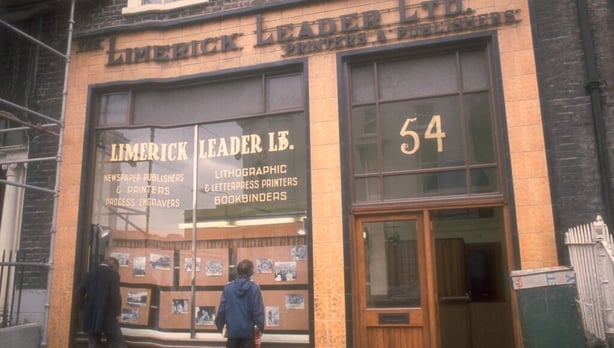 The Limerick Leader offices, O'Connell Street, Limerick (1976)
Today the headline of the paper hitting the streets in Limerick left no doubt about this day and its importance in the life of the Leader.
An RTÉ News report broadcast on 9 August 1989. The reporter is Michael Lally.