Tributes are paid to Cork's 'Evening Echo' as it celebrates the 100th anniversary of its first edition.
President Mary Robinson and Taoiseach Albert Reynolds are among those to congratulate the 'Evening Echo' on its centenary. The first edition of the 'Evening Echo' was published in 1892 and one hundred years on, it is the oldest surviving evening paper in Ireland. The paper marked its significant birthday with the publication of a special souvenir 44 page supplement enclosed with the regular evening paper.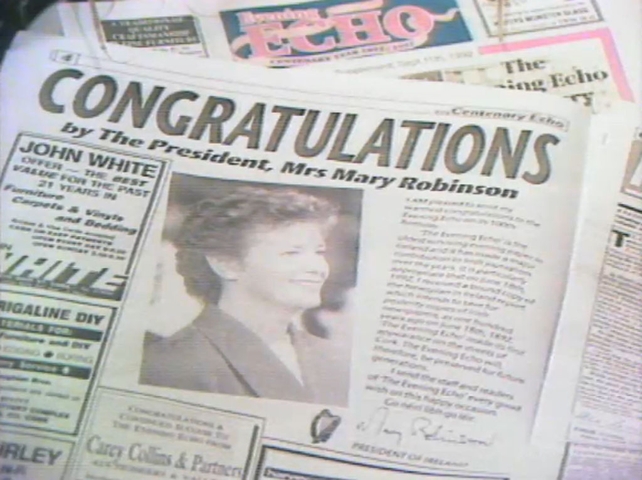 The 'Evening Echo' is an integral part of life in Cork, one of two papers published by the Crosbie family, the other being the 'Morning Examiner'. To counteract losses made in 1991, the group has drawn up a five year plan. Corrective measures in place have already improved operations and they are confident for the future. Management say the 'Evening Echo' has justified its change from a broadsheet to a compact with an increase in circulation sales, bucking national trends.
An RTÉ News report broadcast on 11 September 1992. The reporter is Tom MacSweeney.