The Cork Examiner or The Examiner or The Irish Examiner it will always be known to Cork people as 'De Paper'.
As management at the Irish Examiner struggle to drop the perception of the paper as a Cork newspaper, a battle of words has broken out between two of the country's leading daily newspapers. The Irish Examiner is hoping to increase its market share by grabbing some of the readership of the Irish Independent.
Brian Looney, Editor of the Irish Examiner, Barry Brennan, Group Marketing Director of Independent Newspapers, and Alan Crosbie, Chief Executive of Examiner Publications all comment on the renaming of the paper and the challenges ahead.
Established in 1841 the Irish Examiner is the republic's oldest daily newspaper and in Cork it is still affectionately known as 'De Paper'.
An RTÉ News report broadcast on 10 April 2000. The reporter is Colm Connolly.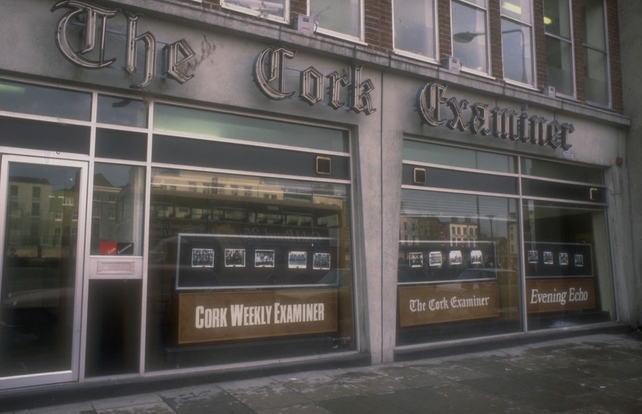 The Cork Examiner Offices, Aston Quay, Dublin (1978)