Some of the top drivers in motorsport compete in the Circuit of Ireland Rally over the Easter weekend.
The Circuit of Ireland has attracted some of the big names from international and domestic rally including Timo Makinen, Rosemary Smith, Tom Trana, Roger Clark and Paddy Hopkirk.
The Gallaher Circuit of Ireland International Rally, 1500 miles in five days. Starting from the Gallaher tobacco factory in Ballymena on Good Friday, 4th April 1969. This race has the largest number of entrants for more than a decade. Five of Europe's top rally drivers will lead the 151 cars speeding over Ireland's roads, to arrive in Killarney on Tuesday.
'Flying Finn' Timo Makinen, winner of the 1965 Monte Carlo Rally, has been prepped by Paddy Hopkirk on what to expect,
The roads are very much similar to what we have in Finland...except you have tarmac roads.
Rosemary Smith, in a Lotus Cortina, is adopting a wait and see approach,
Well I think I'd say of any rally...we could win, somebody else could win, depends on how your luck holds out.
Last year's winner Roger Clark drives a highly modified Escort, and is looking forward to the challenges the race will undoubtedly present,
There's more competition this year than there ever has been...It should be a good fight.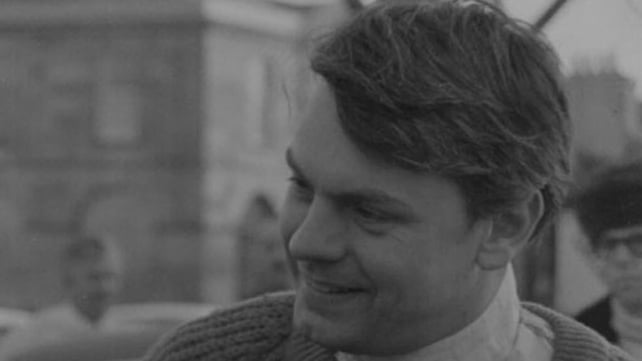 Roger Clark (1969)
Winner of the 1964 Monte Carlo Rally Paddy Hopkirk is behind the wheel of a British Leyland Cooper Mini Cooper S. Despite all this model's modifications, Hopkirk does not know what the outcome will be,
It'll either do well, or it'll blow up with a big bang, or I'll put it off the road!
Check in at the Blessington control next morning was at 6am. Makinen was missing, having broken a differential at Sallygap, but a smiling Roger Clark was happy with his times, looking forward to the next stage which will culminate in Killarney.
The section through the Garden of Ireland was not kind to some. John Laimey and Jock Russell, Frank Fennell and also Rosemary Smith were all put out of the race.
For the remaining competitors, further tests were taken in County Kilkenny, the only other stop being at a level crossing at Shankill, near Bagnenalstown, before proceeding full throttle to Tipperary and Clonmel, where they arrived before midday.
This episode of 'Sport In Action' was broadcast on 10 April 1969. The reporter is Brendan O'Reilly.