Rónán Mac Aodha Bhuí presents a new type of radio show on Raidió na Gaeltachta.
Rónán Mac Aodha from Gaoth Dobhair is a broadcaster on a mission. With an invigorating radio show, he is sharing, through the Irish language, the craic inherent in Gaeilge live on air,
Tá muid ag iarraidh aerthonnta na tíre a Ghaelú.
Interested in radio from a young age, Rónán Mac Aodha was involved in pirate radio before working in television. Radio is his preferred medium, Irish is his preferred language. Any and all levels of craic and craziness are engaged and appreciated on 'Cois Life', his live radio show which goes out on Raidió na Gaeltachta every Friday afternoon from 4.30 – 6pm.
B'fhearr liom bheith in obair i nGaeilge ná ag obair i dteanga ar bith eile.
Rónán is following in the footsteps of other Raidió na Gaeltachta broadcasters such as Seán Bán Breathnach and Mairtín Jamesie Ó Flatharta, who have brought many hours of enjoyment to listeners with their energy, humour and wit.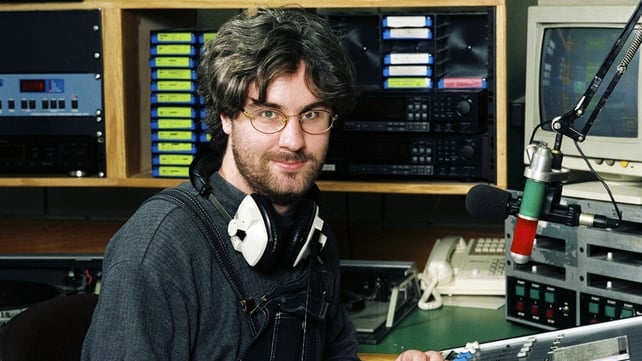 Rónán Mac Aodha Bhuí (1994)
He firmly believes that new music and a new style of radio are what is needed to attract younger listeners to radio as Gaeilge, and partake in a revolution which is happening in the language,
"Tá sé ag mealladh, le cuidiú Dé, na daoine óga isteach, agus ag mealladh iad le bheith páirteach sa réabhlóid sin, agus tá sé ceart, seo an clár ceart de na naochadaí ar Raidió na Gaeltachta."
The Donegal man knows that an audience is out there who wants to hear good music hand in hand with broadcasting as Gaeilge. He forsees a radio station entirely devoted to rock, reggae and giving proper airplay to Irish bands,
Craic FM, tá muid craiceáilte, tá muid meidhreach, tá muid bríomhar, sin uilig ar fud na tíre.
Rónán Mac Aodha Bhuí presented 'Cois Life' on Radió na Gaeltachta from 1993 – 1996.
This episode of 'Ecu! Ecu!' was broadcast on 8 April 1994. The presenter is Bláthnaid Ní Chofaigh.
'Ecu! Ecu!' was an Irish language series aimed at young people which ran from October 1992 to August 1994.
It featured drama, music, comedy and also looked at issues affecting young people such as religious cults, education, emigration, censorship, the music industry, and the Irish language.
Presenters were Diarmuid de Faoite, Marina Ní Dhubháin, Traolach Ó Buachalla, Audrey Ní Fhearghail, and Rónán Mac Aodha Bhuí.