Tears as Brian McFadden announces that he is leaving boyband Westlife.
There were emotional scenes both inside and outside the Four Seasons Hotel in Ballsbridge with the announcement by Westlife that Brian McFadden is to leave the boyband.
One of Ireland's most successful groups ever, they have had a string of number one hits and to date have sold 32 million records globally. With a world tour starting at the end of the month, today the band confirmed that Brian McFadden will no longer form part of their lineup.
Paying tribute to Brian McFadden at a press conference, Kian Egan remembered the good times,
We've shared laughter, tears, success, weddings and babies, but most of all we've shared our dreams.
Brian McFadden said that he is leaving for personal reasons, and not because he had fallen out with the other four,
It's very hard to juggle two lives, when you've got a family.
Outside the hotel tears flowed freely, as the shock of the breakup hit Westlife fans. One young fan who spoke to RTÉ News declares that
I didn't think it would hit me this hard...Brian leaving, it's devastating...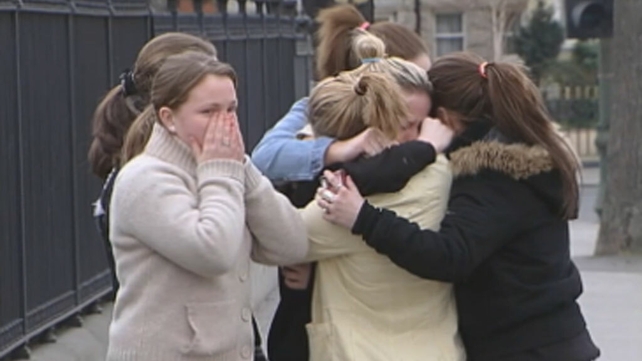 Emotional Westlife fans, Ballsbridge (2004)
Another young fan thinks this is the beginning of the end for the band,
I don't think they'll last without Brian.
An RTÉ News report broadcast on 9 March 2004. The reporter is Sinead Crowley.