Barney Curley has organised a lottery where first prize is his home Middleton Park House.
Barney Curley, a native of Irvinestown, County Fermanagh, and professional gambler, has owned and lived in Middleton Park House, Castletown Geoghegan, situated between Kilbeggan and Mullingar, County Westmeath, up to last week.
The ancestral home of the Boyd-Rochforts, Middleton Park House was designed by George Papworth and constructed circa 1850, replacing the previous house on the site which had been destroyed by fire. Situated on 380 acres, it has been run as an agricultural business since Barney Curley purchased it.
With plans to expand his horse training business Barney Curley decided to hold the draw for his house selling almost 9,000 tickets in the process.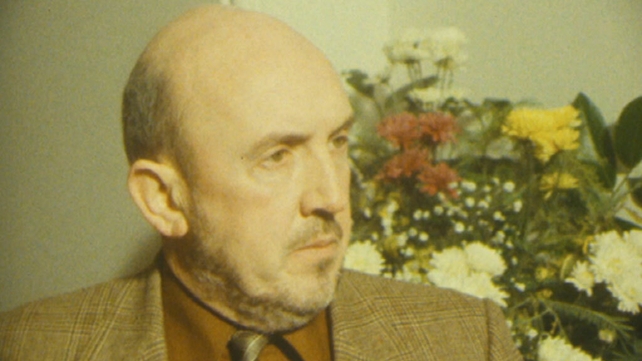 Barney Curley (1984)
Hopefuls who paid £200 for a ticket were in with a chance of winning this mid-nineteenth century Italianate style two-storey house, complete with outhouses, stables and mature grounds.
The draw, with winning ticket pulled by broadcaster Michael O'Hehir, was held in Middleton Park House, instead of in a Mullingar hotel, as was originally planned. With rumours of 20,000 people planning to descend on the town for the draw, Barney Curley says the change of venue was also for health and safety reasons, hence the change of plan,
We thought we'd have it here in the full glare of the press, and have a little do in Bloomfield afterwards.
The local Ballinagore GAA Club is one beneficiary from the draw hoping to make £10,000 for a new pitch. John Deegan from the club explains that this injection of funds into the club's coffers will provide
The foundation stone for a good club in the area.
The people of Castletown Geoghegan and its environs are hoping that the house will continue to be inhabited.
Local man Michael Clarke hopes, it will
Give a bit of employment in the area, which is in a poor state at the moment.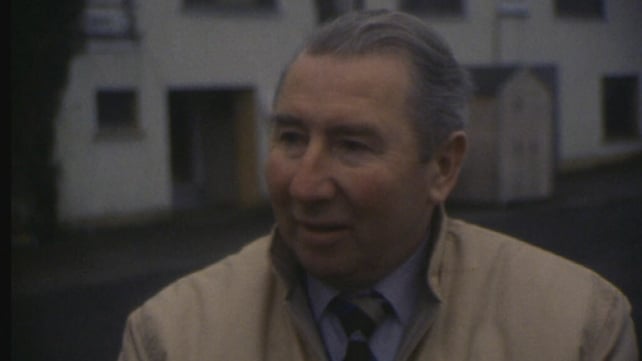 Michael Clarke, Castletown Geoghan (1984)
Other locals who spoke to reporter Alasdair Jackson admitted that they had bought into the dream of winning the house,
I said a few prayers, but it wasn't a success. I'll give up praying after this!
One man whose prayers were answered is John McGurr, who oversaw the sale of the tickets in England, where the winning ticket holder lives. According to him, it proves without doubt that the lottery was legitimate and open,
Because it's proved positive that if anyone needs it, that the whole thing was completely above board from the word go.
Barney Curley maintains that everything relating to the lottery was above board. Each individual tickets was sold in triplicate, with two separate sets of tickets buried in two separate secret locations, in case anything should go awry. The locations will remain undisclosed, says Barney Curley,
In case we have to do it again I'd rather keep my hiding place a secret.
A list which contains the names of people to be entered into the sellers' prize of £10,000 is missing. On their last visit to Middleton House, Gardaí took away five bags of material. Barney Curley thinks the list might now be in their possession. In the meantime, he has put out a call for people who have sold tickets to contact him,
We've searched high and low, and we can't get that book.
An RTÉ News report broadcast on 10 February 1984. The reporter is Alasdair Jackson.