The Viking Olaf of the Scabbyhead who led his men marauding and plundering Irish towns is commemorated at a festival in Athlone.
A specially constructed Viking village along the river Shannon in the midlands town of Athlone is the setting for the 'Olaf Scabbyhead Viking Festival'.
It's been a weekend of fierce fighting in Athlone with the arrival of these strange visitors from abroad.
The festival celebrates the arrival in Athlone of one of the great terrorists of history over a thousand years ago.
In the year 933, Scabbyhead came to Athlone causing mayhem and became the Warlord of the area. Now, the whole town is getting involved in a reenactment of the historic event.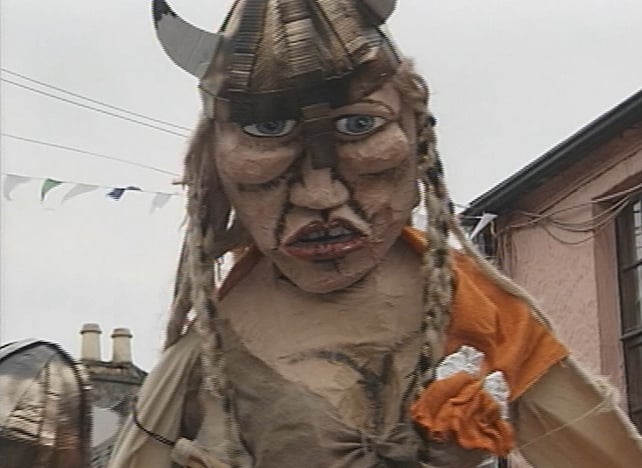 Viking Parade in Athlone
RTÉ News speaks to Jim Behan and Ian Barber about the history of the event and the historical reenactments taking place.
They came, they slaughtered, they stole, they took away slaves and sold them up to Iceland to work the farms and then they started settling.
The Athlone Festival began with a parade through the streets of the town.
An RTÉ News report broadcast on 5 July 2003. The reporter is Ciaran Mullooly.