Plans are afoot in Athlone to tear down the past. King John's Castle was built in the early 13th century by the British and since then has had a chequered past.
Athlone Urban District Council now believe that
This old pile must come down.
It is the view of the council that the site would be put to better use as a civic centre than occupy what some consider to be a symbol of British oppression.
Cathal O'Shannon pays a visit to King John's Castle and asks why the council wants to pull it down.
Mr Tommy Kilroy, the man behind the proposed demolition, is of the opinion that is is
An ideal site for a new civic centre for Athlone which was recommended that we should have by the town planner.
However, as soon as the council set forth their proposals, opposition emerged from local people, the Old Athlone Society, Bord Fáilte, as well as local and national newspapers.
Demolish this old fort which has stood here in one form or another since before the Normans?
Mr Frank Waters was one member of the Athlone Urban Council who opposed the motion to have the castle demolished saying that it is the only building that has a real connection with the past and the people want to keep it.
I can't see any reason for its removal.
A wooden fort built by the Irish once stood on the site prior to King John building the stone castle in the early 13th century.
Call this King John's Castle today and you invite the wrath of some of the people of Athlone. Call it by its modern name, Adamson Castle, and you still offend a few because Brigadier George Adamson for whom it's now called, was a hero of the War of Independence who was killed in the Civil War."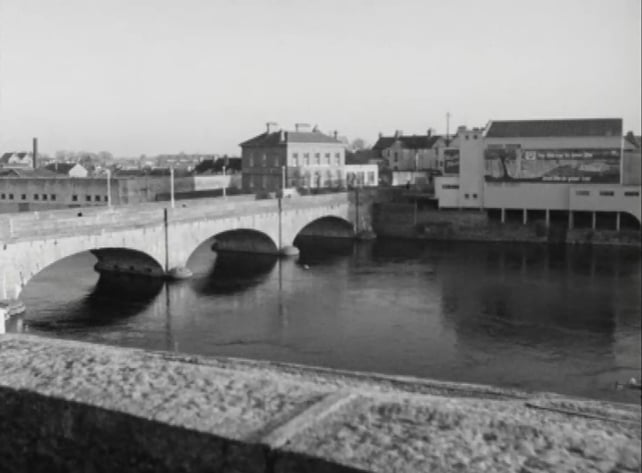 Athlone (1967)
Cathal O'Shanon makes the comparison between Athlone Castle and Dublin Castle or Kilmainham Gaol, and asks
Should these symbols of British oppression be torn down also?
The castle is currently the headquarters of the 16th Battalion of the FCA, and part of the building now serves as a public toilet.
It's not lovely to look at but it is a piece of history.
One American tourist who saw the 'Gents' sign at the base of the castle thought it referred to the whole building and remarked that
It must be the most magnificent jacks in the whole world.
As the castle is not the property of the Athlone Council but falls under the ownership of the state through the Office of Public Works, it is doubtful that the council will get its way.
This episode of 'Newsbeat' was broadcast on 10 February 1967. The reporter is Cathal O'Shannon.