St Finian's College, a diocesan secondary school in Mullingar devoted to the Schola Cantorum, meaning 'a school of singers'.
'Radharc' takes a look at St Finian's music training school five years after the first group of students arrived. Located in Mullingar, Co. Westmeath, St Finian's is the diocesan secondary school for the diocese of Meath. A strong musical tradition led it to be selected in 1970 by the Catholic Church to train young boys in a Schola Cantorum, where they would receive musical tuition alongside their regular lessons in the main school. It was hoped that this would assure the future of church music. Three or four scholarships were offered to promising students every year.
The quality of church music would depend on the quality of the individual musician working in his own church.
In 1975, the first intake of students were preparing to leave. In this extract, a teacher and student discuss the schola.
The Boys of St Finian's was directed by Fr Desmond Forrestal.
This edition of 'Radharc' was broadcast on 13 April 1975.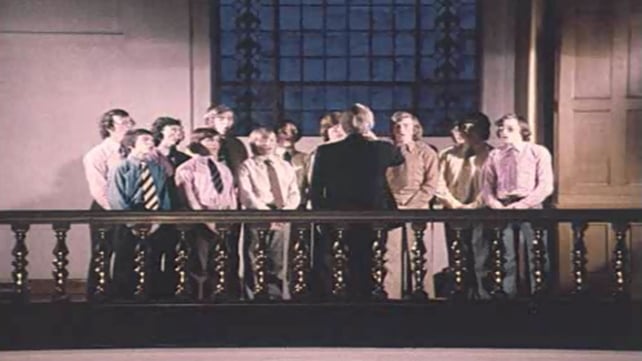 The Boys of St Finian's (1975)