Milo O'Shea learned his trade in the fit ups, dabbled as an electrician, was interested in mime and got his international break with Ulysses.
Milo O'Shea talks about his early days in Radio Éireann, getting his break in America and the real meaning of the phrase 'the show must go on.'
It was at the Christian Brothers school in Synge Street, Dublin, that Milo O'Shea first started out on the road to becoming an actor. Competing in feiseanna, he was spotted by PP Maguire, a Radio Éireann director, and landed the role of Oliver Twist in a radio series.
By the time he had finished his education, Milo O'Shea knew that acting was the career for him, and applied for a job in a 'fit-up' theatre company as a juvenile lead. What he didn't know was that he had also unwittingly applied for, and got, the job as the company's electrician.
I said, oh I know everything about electricity. I didn't know how to put in a bulb then.
Undeterred by his lack of skills in this area, he muddled through with help from fellow actor John Cowley who later played Tom Riordan in the RTÉ' television soap opera 'The Riordans'. Disaster stuck however on their first night in Manorhamilton, when he realised that the stage lights were beginning to dim,
This continued and I was trying to see the girl opposite me, and finally the lights went out completely.
It transpired that the electricity meter was a coin-operated one, and required a shilling to start again. When the panic abated, Milo was sent out on stage to ask for help. Thanks to the generosity of the audience, the show went on.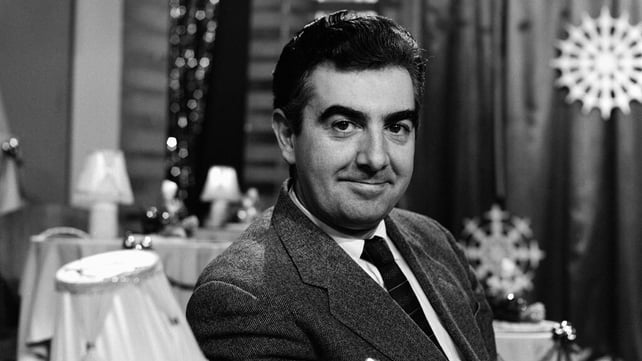 Milo O'Shea on the RTÉ show 'But Once A Year' (1962)
Although he is renowned for his expressive face and his skills as a mime artist, it was a talent Milo O'Shea initially did not know he had. As part of a Red Cross entertainment troupe, the penny dropped during a show for deaf children,
They showed a Charlie Chaplin short, and they fell around, and I said, that's it.
A role as a Trappist monk in a BBC television film, which was done entirely through mime, was also learning curve,
We had to have all the technicians in with us, because there were no cues, and so they all had to work with us, it was very exciting.
Milo O'Shea's big break came when he appeared as Leopold Bloom in Joseph Strick's film adaptation of James Joyce's Ulysses. Contrary to popular belief, it was not his bare posterior that was shown in the film, but the actor TP McKenna's,
I thought everybody would know the difference!
Although banned in Ireland, the film was hugely successful abroad, and O'Shea travelled to America to do a promotional tour. The following season he was invited out again, for a role on Broadway,
To appear in 'Staircase' with a wonderful American actor called Eli Wallach and I was very lucky, I was nominated for a Tony...
This episode of 'Kenny Live' was broadcast on 4 February 1989. The presenter is Pat Kenny.