The Irish Coffee Festival in Foynes, Co. Limerick took place on 17 August and was attended by Irish actress and Hollywood film star Maureen O'Hara.
During the 1930s and 40s Foynes was one of the most important airports in Western Europe. O'Hara's husband, Captain Charlie Blair, was one of the pilots who used to fly the sea planes into Foynes, and flew the last commercial sea plane out of Foynes. Foynes is also the place where the now world famous Irish coffee was invented. The festival also coincides with Maureen's seventy-sixth birthday.
The festival attracts Irish coffee makers from all over the world with all their own secrets on how to make the perfect Irish coffee.
This 'Nationwide' report by Cathy Halloran includes interviews with festival organiser Margaret O'Shaughnessy, as well as Irish coffee makers Anita Toresen Hector, Kevin O'Halloran, James Ryan, and Michael Collins.
This report for 'Nationwide' was broadcast on 28 September 1996.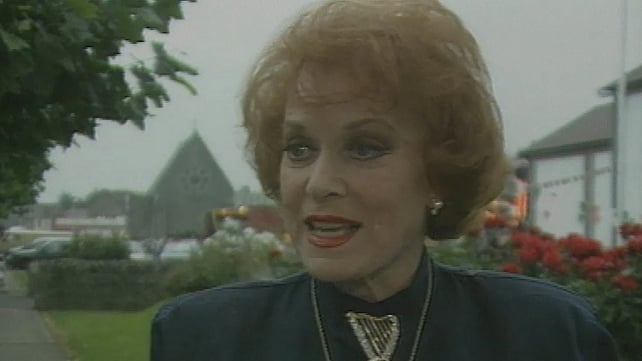 Maureen O'Hara attends Irish Coffee Festival in Foynes, Co. Limerick (1996).