Gabriel Byrne's first appearance as Pat Barry in Leestown gives Maggie Riordan quite a fright.
Pat Barry has been hired to work on the Riordan farm. His arrival results in a misunderstanding with Maggie Riordan played by Biddy White Lennon and Eamon Maher played by Joe Pilkington.
Describing the character of Pat Barry in an interview for the RTÉ Guide, Gabriel Byrne says,
They call him the cowboy because he dresses a bit like the Westerns, and he's a flamboyant sort of guy. Eye on the main chance, knows where he wants to go.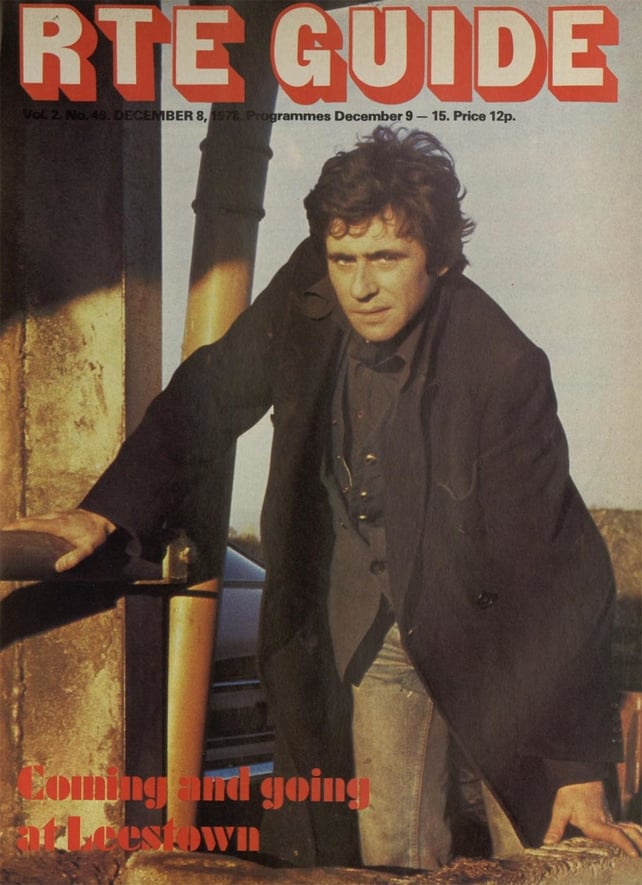 Gabriel Byrne as Pat Barry on the cover of the RTÉ Guide on 8 December 1978
This episode of 'The Riordans' titled 'The New Man Arrives' was broadcast on 10 December 1978.
It was written by Patrick Gilligan and directed by Sean Cotter.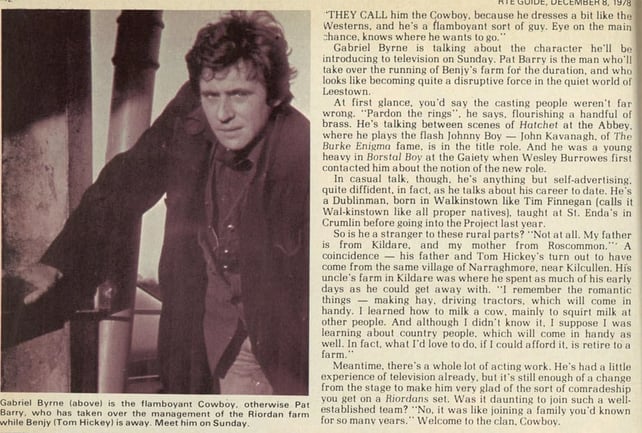 RTÉ Guide 8 December 1978, page 10 Gabriel Byrne

'The Riordans', Ireland's first rural soap opera, was first broadcast in January 1965. Writer James Douglas set the drama on a midlands farm and centred it around the owner Tom Riordan, his family, friends and neighbours.
The production of 'The Riordans' was ground-breaking in that it was shot using television's Outside Broadcast Unit on a real farm. This innovation would be copied by other broadcasters around the world.
The actual farm was Flat House in Dunboyne, owned by Mr William Connolly. The farmhouse and yard were to be Tom Riordan's farm, while two of the rooms in the Connolly farmhouse were made into 'sets' for the priest's parlour and the Riordans' kitchen.
The popular weekly drama was broadcast on television from 1965 to 1979. In 1979 'The Riordans' was taken off television and became a radio drama until it finally finished in 1985.