Before Bob Charles, he was Trevor Jordache.
It is now over 20 years since actor Bryan Murray played the role of abusive and violent husband and father, Trevor Jordache, in Channel 4 soap 'Brookside'. The controversial storyline became one of the most talked about deaths in soap history.
Bryan Murray appeared briefly in the soap in 1993 before being killed off. After a period of abusive behaviour towards his wife, Mandy (Sandra Maitland) and daughters Beth (Anna Friel) and Rachel (Tiffany Chapman), tensions reached a peak with Mandy stabbing him with a kitchen knife. Mandy and Beth subsequently attempted to cover up the murder by burying the body under the patio in the garden with the help of trusted neighbour Sinbad.
Bryan Murray was a guest on 'Kenny Live' where he spoke to Pat Kenny about playing the villain.
This episode of 'Kenny Live' was broadcast on 4 February, 1995.
Bryan Murray now plays Bob Charles in RTÉ's 'Fair City'.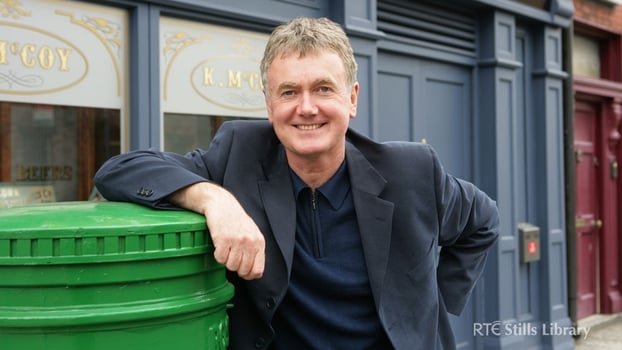 Bryan Murray on the set of 'Fair City'