Druid Theatre Company bring their production of 'The Playboy of the Western World' to the Aran Islands.
In October 1982 an RTÉ crew joined the Druid Theatre Company as they prepared to stage John Millington Synge's 'The Playboy of the Western World' on Inis Meáin. It was on this island that Synge heard the story which inspired his masterpiece.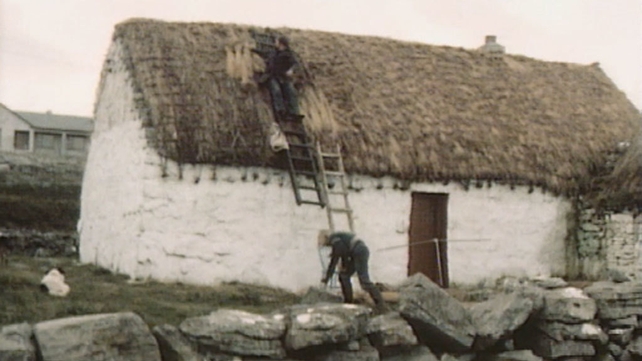 Men thatching house on Inishmaan (1984)
Although the first production of the play in the Abbey Theatre in 1907 provoked riots, the main problem facing Druid this evening is how to fit everyone who wishes to attend into the island's small hall.
Members of Druid are anxious about the audience's reaction to the production. Maeliosa Stafford who plays Christy Mahon is both nervous and confident,
I think they will like it, but it could go the other way.
In this place that has such a close connection with Synge, Bairbre Ní Chaoimh thinks that this audience could be their hardest yet,
They're going to be much more critical in a lot of ways, because they'll expect it to be very real.
Old Mahon, Christy's father, is played by Mick Lally. Returning to the Playboy's roots on Inis Meáin gives Druid's production an added dimension,
It's in a sense bringing it back to its own cradle, in a way, and I'm sure that they're going to like it.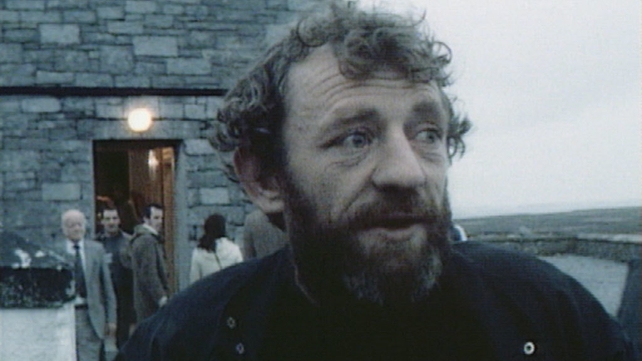 Mick Lally, Inishmaan (1984)
Mayoman Paddy Dooney, who plays Michael James, has had many lively discussions with Druid's artistic director Garry Hynes about the play and Synge's depiction of ordinary rural people in the west of Ireland. While the writer may have captured their turn of phrase, Paddy Dooney maintains that Synge didn't truly understand the soul of the people,
For me, speaking personally, that's where I think...Synge fell down...that it was, if you like, an outsider looking in, and not fully understanding the subject that he was researching.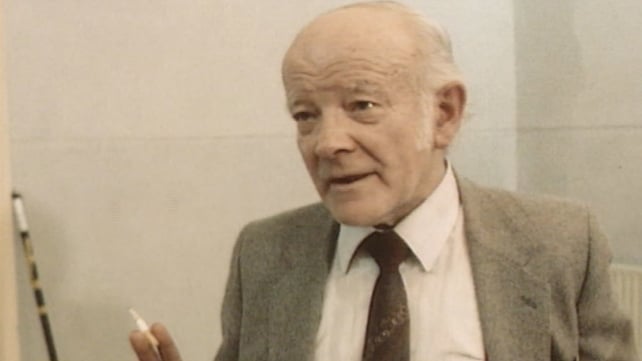 Paddy Donegan (1984)
Artistic director Garry Hynes is excited about the production. This is the third time that Druid have staged The Playboy of the Western World, and for her, Synge's masterpiece continues to yield up new things,
Each time we do it it's not a recreation of something, it's constantly discovering other levels in the play, other resonances.
'Back To The Cradle' was broadcast on 11 January 1984.