Fifty people lose their lives when a oil tanker explodes while unloading its cargo at the Whiddy oil terminal.
The oil tanker, which had begun its journey in the Persian Gulf, had been scheduled to call at the port of Sines in Portugal to discharge some of its cargo, but bad weather prevented this. It duly sailed to Ireland, and the oil terminal at Whiddy Island in Bantry Bay, where it commenced the process of unloading 114,000 tonnes of crude oil at the offshore jetty.
Shortly before 1 am on Monday 8 January an explosion was heard from the vessel. Another huge explosion that followed destroyed the ship, breaking it in half.
Local emergency services arrived to fight the fire, and fourteen families on the island were evacuated, fearing for their lives,
Mheas an mháistreás poist istigh, gurb é deireadh an domhain a bhí chuici, a dúirt sí.
The fire services have thus far been unable to extinguish the fire on board the ship, and a plume of smoke can still be seen in the sky above Whiddy Island. According to Mr Finnegan, chairman of Gulf Oil in Ireland, this is the first time a disaster of this scale has happened.
Fifty people died in the explosion and its aftermath, 42 French, 1 Britain and 7 Irish. A Dutch salvage diver was also killed during the salvage operation.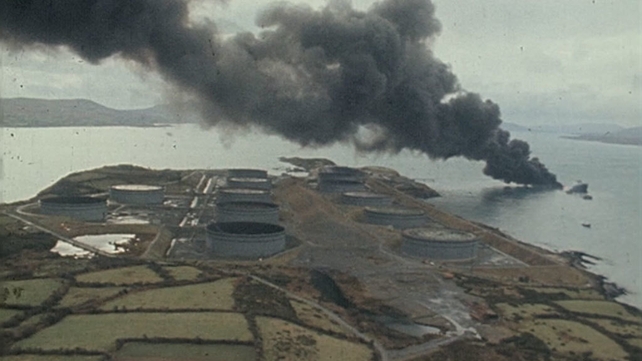 Remains of the Betelgeuse, Whiddy Island (1979)
An RTÉ News report broadcast on 8 January 1979. The reporter is Liam Ó Muirthile. The last section of this report is mute.