More than 5000 people gathered in Cobh, County Cork for a special ceremony to remember those who lost their lives in the sinking of the Titanic.
On the 11 April 1912 the Titanic liner pulled out of Queenstown (Cobh), in County Cork, the final port of call of her ill-fated voyage. To mark the centenary of this event, thousands of people gathered for a national commemoration service at Cobh's main promenade, from where 123 passengers left to board the Titanic.
Mayor of Cobh Jim Quinlan explains
We're going to be commemorating the ship, we're going to be commemorating all those that left, wherever they left from, particularly those 123 and the 79 that perished, it's hugely important we commemorate those today.
Among attendees at the service were relatives of Irish passengers who drowned when the Titanic sank and the Minister of State for Northern Ireland Hugo Swire. President Michael D Higgins told the gathering that it was right to take time remember all those who died in the Titanic as well as,
The thousands more whose lives were devastated by the loss of their loved ones in the Atlantic.
Four commemorative Titanic stamps by An Post were unveiled to mark the fact the Titanic was also a Royal Mail ship.
Later, on board the LÉ Eithne, the President reviewed the naval fleet at Haulbowline in his first official engagement as Supreme Commander of the Irish Defence Forces. Among the ships gathered were HMS Mersey and her crew of 40.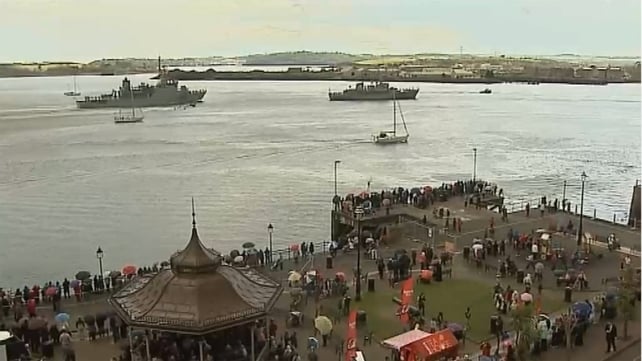 An RTÉ News report broadcast on 11 April 2012. The reporter is Jennie O'Sullivan.