Plans to reopen the slate quarry on Valentia and utilise the island's natural resource to provide local employment in Kerry.
Valentia Island is where the first transatlantic cables were laid in 1857 linking Ireland with Newfoundland. The Marconi radio station on the island provided a valuable shipping service and Valentia was home to one of the first weather stations. The island also became famous for its own natural resource, Valentia slate, produced from a quarry on the island which was opened in 1816 by the Knight of Kerry, who once owned Valentia.
Demand for Valentia slate spread internationally and it was used to roof and floor many public buildings including the House of Parliament at Westminster. Examples of Valentia slate can also be found at the Knight of Kerry's home at Glanleam Estate in Valentia. Islanders became skilled in crafting the slate and examples of their work can be still seen across the island.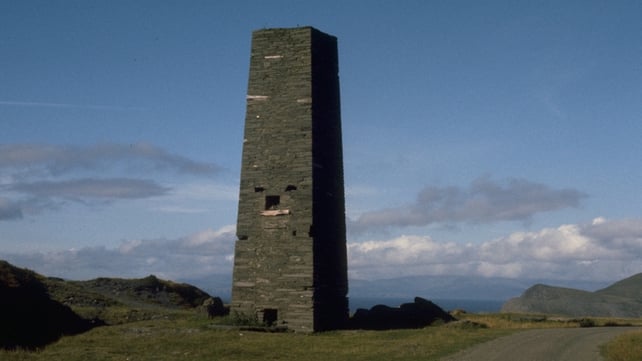 Valentia Island Mining Tower
In the 1870s, Valentia slate faced competition from cheaper Welsh slate and the quarry closed for good in 1911 following a massive rockfall. This resulted in a loss of local employment and the prospect of surviving on the island for many families became bleak. The only option left for many was emigration.
In 1954, the abandoned quarry was turned into a grotto to mark the Marian year and islanders erected statues of the Virgin Mary and St Bernadette.
Visitors to the shrine have been the only sign of life in the area for many years.
Now, all of this might be about to change as there are plans to redevelop the quarry as a commercial venture. Three islanders have recently travelled to Germany to learn how they mine for underground slate and took samples of Valentia slate along to determine its quality.
Michael Lyne describes what was discovered on the trip. The group returned with an experienced mine engineer, who will advise on the best means of extracting the slate as part of a feasibility study.
We're starting a feasibility study to see if we can get this mine open again, if we can economically produce slate from here.
If the quarry gets the go ahead to reopen, a factory will be built creating new jobs for the islanders.
Investors will be encouraged to give financial backing to make Valentia the hive of activity it was in the nineteenth century.
Mick O'Donoghue and Pat O'Driscoll are hopeful for the future of the quarry and the possibility that it will provide employment for locals.
An RTÉ News report broadcast on 29 August 1988. The reporter is Teresa Mannion.