Valentia off the Iveragh Peninsula in south west Kerry, is an island of great beauty and contrast.
Seven miles long and three miles wide at its narrowest point, Valentia island is joined to the mainland across the 3/4 mile Portmagee Channel by a bridge. Though 3,000 people lived on the island at one stage, less than 700 people now reside there.
A piece of land seven miles in length, three miles at the waist.
It is a place of lush vegetation which contrasts greatly with its significant role in world telegraph communications history and the famous blue Valentia slate industry used in many prominent British buildings.
Irish journalist and Valentia native Liam MacGabhann along with RTÉ producer John Condon profile Valentia's place in history and its way of life. Together they explain Valentia's significance as the most westerly military and naval outpost of the British Empire.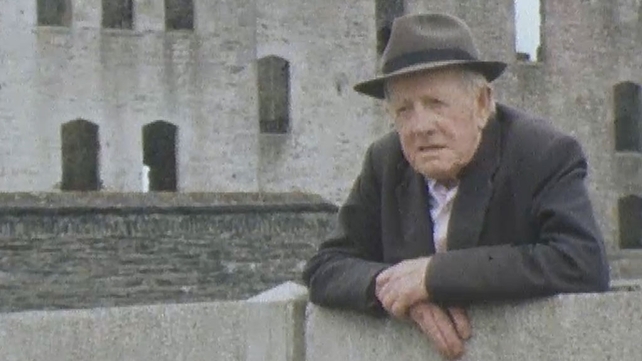 Eugene Ring (1976)
This clip also includes an extract from an interview with Eugene Ring, one of the two brothers who were telegraph operators in British Valentia Island Cable station. They acted as Intelligence Officers for the Irish Volunteers and sent the first news of the Irish Rebellion to John Devoy, leader of republican Clan Na Gael in New York
Mother operated on successfully today, signed Kathleen
This film portrait of Valentia Island was made in 1976 as part of an RTÉ series 'Pieces of Land' where four well-defined areas of Ireland were profiled: the islands of (Valentia, Rathlin and Sherkin) and the Phoenix Park.
The Valentia episode was the first of the series and was scripted and narrated by Irish journalist and Valentia native Liam MacGabhann and produced by John Condon who had a great attachment to the place.
'Pieces of Land: Valentia Island' was broadcast on 7 June 1976.