Land from the grounds of the Rockingham Estate now form part of the recently opened Lough Key Forest Park.
Lough Key Forest Park, formed from some of the land which comprised the former Rockingham Estate, near Boyle in County Roscommon, has recently had its official opening. Covering 850 acres, Lough Key is situated the northern part of the River Shannon drainage basin. The land which comprises the park was bought by the Land Commission in 1959 from the King family.
Since that time, the forestry section of the Department of Lands and Bord Fáilte have been hard at work, turning the estate into a beautiful recreational amenity. Here visitors can enjoy boating, fishing, and eight miles of pathways and nature trails, where tame fallow deer roam freely. There is also a camping and caravan park, and a restaurant with lakeside views.
Pleasure cruisers are also catered for, with mooring points for boats that make their way up the Shannon Navigation system. The one point of controversy surrounding the park's history to date is the Moylurg Tower, which offers a panoramic view of the park. Created from concrete and ninety feet high, it stands on the site of the King family home, destroyed by fire in 1957.
120,000 people visited the park in 1972, and forester John Duane claims that the park's opportunities for camping, fishing and boating are the most comprehensive of their type in the country. He also believes that civic pride is strong in Boyle, as the local people take a special interest in it,
If they find people doing anything out of the way, they contact me or any of my assistant foresters...and in so doing, they make sure the place always looks neat and tidy, and a gem of a place, which it really is.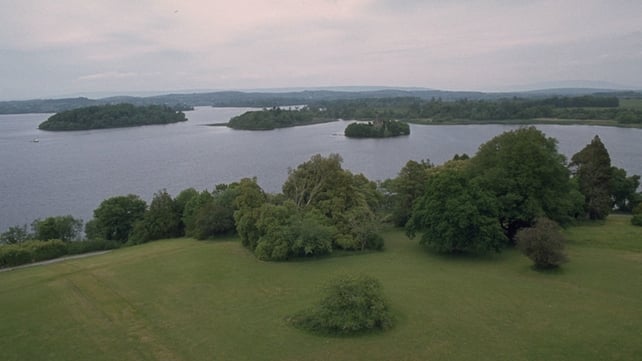 View of Lough Key from the Moylurg Tower (1977)
An RTÉ News report broadcast on 28 June 1973. The reporter is John McAleese.