Rory Gallagher recalls his early interest in music and how he is happy to be a musician.
Rory Gallagher developed an interest in music from an early age having heard the music of the likes of Bill Haley, Roy Rogers, and Gene Autry. He also sites Lonny Donegan, Lead Belly, Woodie Guthrie, Buddy Holly, Chuck Berry, Muddy Waters as major influences on his work.
By the age of nine, Rory had a wooden guitar and later got a Fender guitar on fifteen years hire purchase. He knew at that stage that he wanted to be a musician.
At one stage I wanted to be a footballer and a cowboy like any other kid but really I mean since the age of six I wanted to be a musician.
The excerpt here shows Rory performing 'Tore Down' at the Savoy in Limerick in 1972. He is accompanied by Gerry McAvoy on bass and Rod de'Ath on Drums.
According to producer Bill Keating,
The programme is based on one day of Rory's short tour of Ireland last year. In Cork he talked about how he began to take an interest in music at an early age, and bought his first guitar on HP, taking about fifteen years to pay it off.
RTÉ Guide 8 June 1973, page 11.
This episode of 'The Music Makers' was broadcast on 11 June 1973.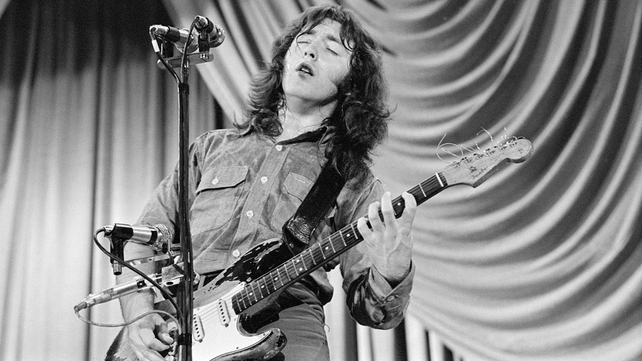 Rory Gallagher
The Music Makers was an RTÉ Light Entertainment series featuring the top performers in the Irish pop and jazz scene.