The people of Goresbridge are the stars of this opening sequence to 'Hall's Pictorial Weekly'.
A nice if slightly overcast summer's day gives the men of Goresbridge in County Kilkenny an opportunity to tidy up the streets and do some painting.
Schoolgirls hang around the village, while others make their way home in a leisurely fashion. The tennis court seems to be a place to congregate also.
Children play on the streets, and the petrol pump on Main Street has a customer.
We also see the town's namesake, Gore's Bridge, which links County Kilkenny to County Carlow. A nine arch Carlow granite bridge over the river Barrow, it was constructed in 1756 by Colonel Ralph Gore, the Earl of Ross.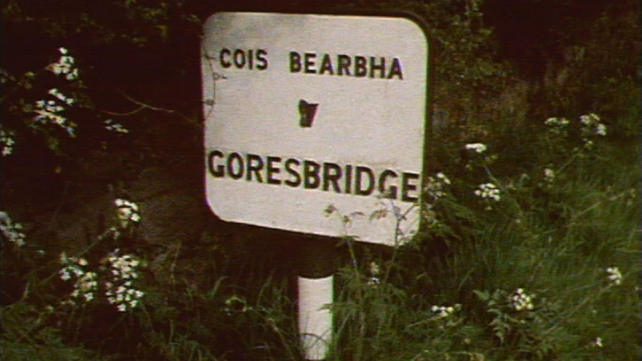 Goresbridge road sign, County Kilkenny (1978)
Once a week, from June to September, the 'Hall's Pictorial Weekly' film crew would arrive at a town or village in any county in Ireland. They would film the people and the place and return to RTÉ where the footage was edited and put to music.
This short film of around one minute's duration formed part of the opening sequence for that week's episode. But no one knew which location had been chosen, and it was not advertised as part of the programme billings in the RTÉ Guide or newspapers.
So with this in mind, people the length and breadth of the country tuned in religiously, in case it was the turn of their town or village to have its few minutes of fame.
This episode of 'Hall's Pictorial Weekly' was broadcast on 7 June 1978.