Volunteers from Crumlin in Dublin are refurbishing the old Church of Saint Bernadette to create a club for boys.
Renovations are underway at the old church on Clogher Road, which was donated by the Very Rev Fr Joseph O'Connor Parish Priest. The work is being carried out by voluntary labour from members of the Crumlin community.
The plans designed by architect Brian Brennan include a dance hall, an indoor football pitch, and a table tennis billiards room. St Bernadette's Boys Club is currently located in a very confined space and when the church became available Mr Brennan got involved in designing the new layout for the club.
This is a community effort and even the Lord Mayor Mr JJ O'Keeffe TD has lent a hand in mixing cement. Alderman O'Keeffe comments
The reason that I'm here is because I believe there is a necessity for a boy's club in our parish and I think that we are very fortunate that we have at our disposal this old Saint Bernadette's Church which we are converting into one half to a boys club and the other half to a parish ballroom.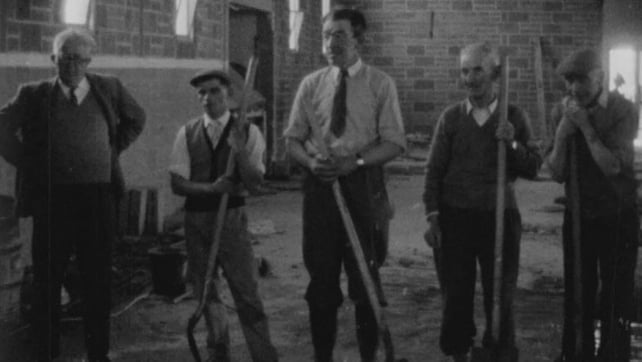 Men at Work on Crumlin Boys Club (1963)
Judge Conroy, President of the Boys Club, is also getting his hands dirty and explains the background to the club and the work involved in renovating the old church with the help of volunteers from the parish. He introduces some of the volunteers including one-time army boxer Tommie Richardson, an inspector at Dublin Corporation Larry Callaghan, deep sea diver Larry McManus, and Mick Clinch.
The inspiration behind the whole project is Edward O'Brien Moran describes the necessary need for the boys club in the parish.
An RTÉ News report broadcast on 21 May 1963. The reporter is Kevin O'Kelly.