The Dublin suburb of Tallaght has a population of 70,000 but no supermarket and no sign of the long awaited town centre.
Following the collapse of the H Williams supermarket chain, the Dublin suburb of Tallaght with a population the size of Limerick is left without a supermarket and the locals are not happy.
The seventy thousand people who live in Tallaght and the surrounding area have always had it difficult when it comes to shopping. The problem has always been that there have never been enough shops there.
The community has been promised a town centre for years but they are left waiting. Today the site for the development is no more than an empty field.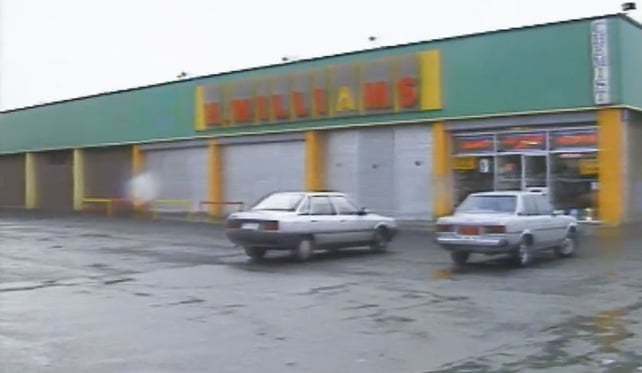 H Williams Supermarket (Tallaght)
When the H Williams group collapsed, the Tallaght supermarket closed and the people were left in an even worse position.
We need a proper supermarket very badly.
Brian O'Connell speaks to people from the area about getting their groceries. Many have no choice but to travel miles on foot to the nearest supermarket in Kilnamanagh which is home to the biggest Dunnes Stores in the country.
An RTÉ News report broadcast on 12 November 1987. The reporter is Brian O'Connell.