Edition 111 of Century Ireland is out on 11 October with all the news from 100 years ago.
The main stories include:
Cinema: a force for good or for evil?
London, 11 October 1917 - Moving pictures have a profound mental and moral influence on young people, but that 'under wise guidance' cinemas could be used as an influence for the good, according to a new book.

Progress report on the rebuilding of Dublin
Dublin, 13 October 1917 - The City Architect for Dublin, C.J. McCarthy, has published a first progress report on the rebuilding of the city since the Dublin Reconstruction Act became law nine months ago.

The Rising's other victims
16 October 1917 - There were many victims of last year's Easter Rising. They include the dead and the injured and their families and dependants. They include the property owners and business people whose premises were destroyed or damaged amidst the fighting.

Flag day in Dublin for the British Red Cross
Dublin, 19 October 1917 - 1,600 volunteers took to the streets of the Dublin city yesterday with half a million flags to raise funds for the Red Cross, whose 'Our Day' pageant took over the principal streets of the capital.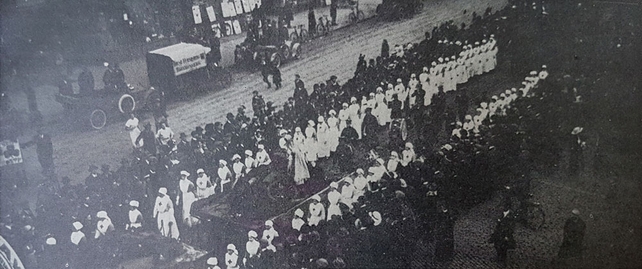 Our Day Parade featuring Irish life nurses

Redmond: Ireland more inflamed than at any time since 1916 Rising
Westminster - 22 October 1917 - Speaking to a packed House of Commons yesterday, Mr John Redmond, the leader of the Irish Parliamentary Party, moved a motion deploring the policies of both the Irish Executive Government and the Irish military authorities.
More seats for Unionism in reformed Parliament?
London, 24 October 1917 - An amendment proposed to the forthcoming Electoral Bill would see unionists gain seats in Ireland.
Controversial Ibsen play performed in Dublin
Dublin, 25 October 1917 - The Theatre Royal in Dublin has staged a performance of Ghosts by Henrik Ibsen, a play that had, up until recently, been banned as a 'work unfit for presentation in a public theatre'.

Henrik Ibsen
Mutiny in Germany
Berlin, 26 October 1917 - There are claims that there has been a mutiny involving the crews of four German battleships at Wilhelmshafen.
For more from Century Ireland, visit www.rte.ie/centuryireland