Who did what to what chair in the Late Late Show's antique restoration competition?
On 23 May 1997 Siubhan Maloney from Donegal appeared on the Late Late Show with a restored armchair as part of the Late Late Show furniture restoration competition. Siubhan won first prize in the competition for the chair which she says she restored herself. However, antique shop owner Joshua Duffy claims that he carried out the restoration.
On the night of the Late Late Show Siubhan Maloney declared
I did everything myself.
Joshua Duffy, on the other hand, describes the restoration process which he claims to have carried out on the very same chair. He also claims to have before and after photographs of the chair, which Siubhan says is definitely not her chair. When there was no credit given for his work during the Late Late Show, Joshua Duffy, says he was "gutted".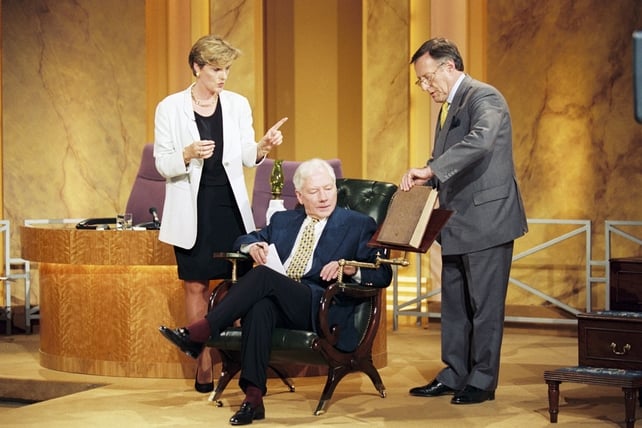 Gay in the Chair, with Siubhan Maloney and Brian Coyle from Adam's Art Auctioneers and Valuers (1997)
Siubhan claims
I never had any dealings with him - good, bad or indifferent.
An RTÉ News report broadcast on 27 May 1997. The reporter is Colm Connolly.