The search for Ireland' s tallest man begins on The Late Late Show.
Much to the amusement of the Late Late Show audience, presenter Gay Byrne appears on set with three of the contenders for the title of Tallest Man in Ireland.
According to Gay and the Guinness Book of Records, the tallest Irish man ever was Patrick Cotter O'Brien from Kinsale in 1760.
The poor, unfortunate man was 8 feet 1 inch tall.
In Britain, the tallest living man is Christopher Greener, who is 7 foot 6 and a quarter inches tall.
Donegal clothing company Magee are now searching for the tallest man in Ireland. The winner will receive a suit to the value of £500 from Magee's of Donegal.
When you're built like this, there's not many places you can walk in and buy off the peg.
The winner will also be immortalised in the Waxwork Museum.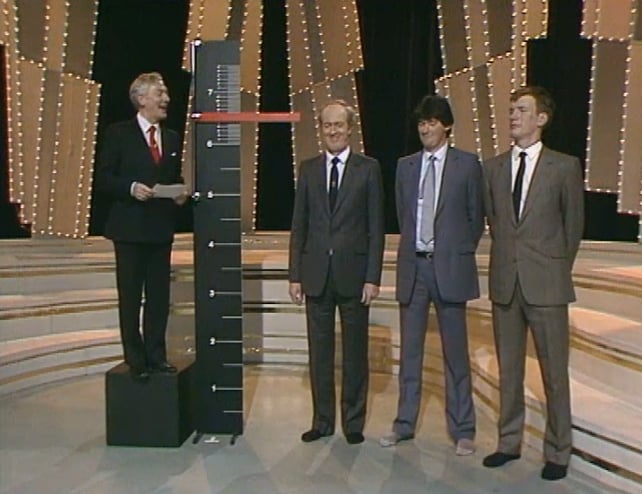 Contenders for the title of Tallest Man in Ireland with Gay Byrne (1987)
John Lavery from Limerick, Brendan Alisdair from Cobh, and Joe Cawley from Sligo, all measure in at roughly 6 foot 9 inches. After measuring up these three contenders, Gay makes a call out for anyone who thinks they might be taller to come forward.
This episode of 'The Late Late Show' was broadcast on 27 March 1987. The presenter is Gay Byrne.