Flat or high, wooden or leather, for men or women, the history of shoes is the subject of a Northampton Museum which plots the evolution of footwear through the ages.
When the Lotus Shoe Company took over an old business in Stafford in England, a number of ancient and historic shoes were found. These shoes formed the nucleus of a shoe museum
Footwear expert at the Northampton Museum Ken Hamilton joins Gay Byrne to show a sample of shoes from the collection, proving that the fashion of shoes repeats itself over time. The craftsmanship is evident from the selection on display.
It's just modernised as it goes along.
The collection includes: a 13th century solid wooden mule inlaid with mother of pearl; a square toe Tudor period cow's tongue and leather shoe; a 16th century Venetian block heeled slipper; a rocker based on the design of the Chinese sampan boats; a soft leather 18th century French court shoe; a Victorian leather boot; a Russian boot worn by field nurses in World War I; an early 1970s platform; and a studded Elephant boot.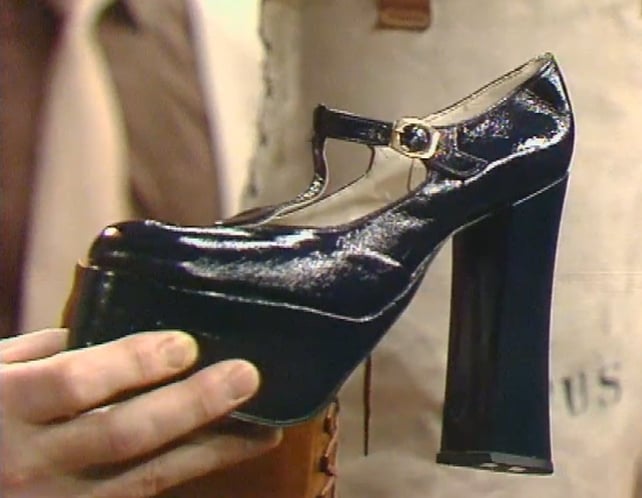 Sixties Platform Shoes
This episode of 'The Late Late Show' was broadcast on 30 January 1982.