A profile of Irish country music singer Philomena Begley.
After a quarter of a century on the ballroom circuit, Irish country music singer Philomena Begley still thrives when performing in front of a live audience.
I love it, it's just my life really, I couldn't give it up.
Since she was a teenager in her native County Tyrone, Philomena has been playing with bands, starting country music she never looked back. Philomena Begley has now recorded a score of albums, four of them in Nashville, Tennessee, the home of country music in America.
The Irish accent suits country music and the genre is hugely popular in Ireland. Philomena Begley is an artist that can draw an audience north and south of the border. She believes Irish people connect with country music's themes of drink, adultery and divorce, and relate to lyrics of the songs.
However she thinks many people have the wrong impression of country music. It is big business in Ireland and Nashville and not,
All frills and fringes and horses and hats and whatever.
Philomena Begley is not just a phenomenon in Ireland, but is also popular in Europe and America and has silver, gold and platinum discs to prove it. Her home is full of awards and she is justifiably proud of her success. She is clearly a wealthy woman but does not want to live like a superstar and remains tied to her roots.
I do my own thing and if they don't like what they see, I couldn't be bothered trying to live up to a big star's image.
The day began at 8:30 am when getting her children ready for school. Once her two hour show in the Ierne Ballroom in Dublin's Parnell Square ends she will drive back to her home in Tyrone, arriving there well after 4:00 am. Although touring is tiring Philomena feels energised from live performances.
If I had to go on and do two hours again, I probably would be able to do it.
This episode of 'Evening Extra' was broadcast on 13 April 1987. The reporter is Patricia Murphy.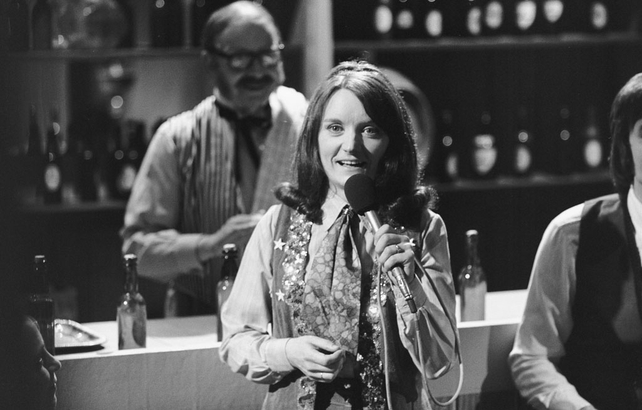 Philomena Begley performing on the RTÉ Television show 'Margo and Co' in 1972.