Meet Eddie Kelly and TP McLoughlin Ireland's greatest devotees to Buddy Holly.
Evening Extra marks the anniversary of the death of American musician and singer-songwriter Buddy Holly on 3 February 1959 by talking to some of the singers Irish fans.
The 1950s youth revolution came to prominence through rock and roll and teenage idols like Elvis Presley, James Dean and Buddy Holly. For many it was Buddy Holly whose,
Distinctly unglamorous appearance broke all the rules of just what a teenage idol should be.
28 years after his death at the age of just 22, his music still resonates. A long way from Texas, the town of Longford in the middle of Ireland is the home of 'The Friends of Holly Society'.
Nick Coffey meets Eddie Kelly, who runs the society, from his home where pictures and posters adorn the walls in rooms full with Buddy Holly memorabilia.
He's been an influence on all the major artists down through the years from The Beatles to Bruce Springsteen.
It was Buddy Holly's song writing ability dealing with human emotion which has given his popularity such longevity. The release of the film 'The Buddy Holly Story' staring Gary Busey has also helped to sustain the popularity of his music.
The memory of Buddy Holly is kept alive in Ireland through events like the convention organised by the Limerick Rock 'n' Roll Society for the past eight years. Fans from all over the country gather in Limerick each February with all the proceeds donated to charity.
If anyone is interested in meeting fellow Buddy Holly fans, it's a good place to go.
While Eddie Kelly is a Buddy Holly fan, Tom (TP) McLoughlin is the biggest devotee to the singer in all of Ireland. Postman TP has one of the largest collections of Buddy Holly records and memorabilia in Ireland, if not in Europe.
Sporting a Buddy Holly t-shirt, TP McLoughlin tells Nick Coffey how became a Buddy Holly fan at a young age and what his collection means to him. In 1968 TP's house went on fire and he lost most of his collection, apart from Buddy's first hit 'That'll Be The Day'. Since then, he has spent a lot of effort and money replacing the lost items. Over the years TP has come into contact with lots of "Holly People" in England and America, as part of a network of international fans.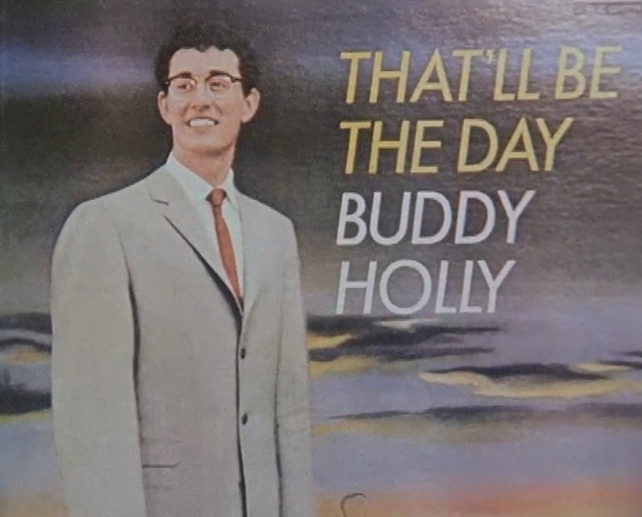 Buddy Holly, That'll Be The Day
The rarest of all is the 'That'll be the day' American EP on the Decca label, which is about his rarest record in the world today.
This episode of 'Evening Extra' was broadcast on 3 February 1987. The reporter is Nick Coffey.