A visit to Dublin's Liquor Museum situated in the basement of a railway station.
RTÉ reporter PP O'Reilly visits Dublin's Liquor Museum in Kingsbridge Station (now Heuston Station) which houses popular drinks from many different countries.
Timmy Byrne curator at the museum explains that the exhibition contains around 600 old and rare alcohol bottles and other novelty items. Collecting began in 1958 with many of the bottles coming from private collectors as well as from the auction rooms in London.
The museum was officially opened by the Manager of CIE Hotels Joseph Lucey at the Harcourt Street train station in 1958. When that station closed, the museum was moved to the vaults at Kingsbridge in 1961.
One of the prize possessions in the museum's collection is a bottle of Courvoisier brandy dating back to 1811. The bottle was one of six found during the blitz on London in 1941.
It's commonly known as Napoleon brandy.
The collection contains a number of novelty bottles. One contains a dancing ballerina while another has a clockwork musical fortune telling roulette wheel.
It's a form of alcoholic roulette.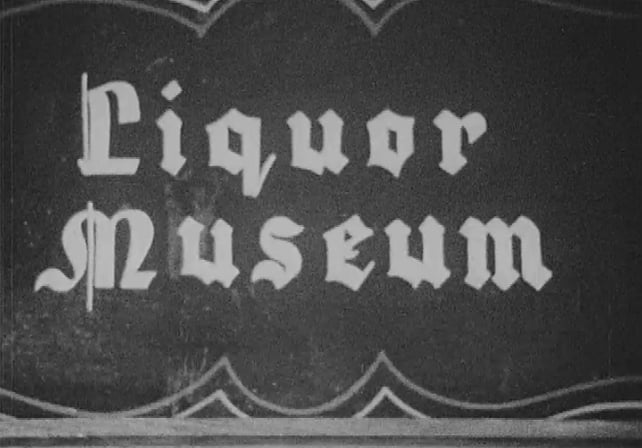 Sign for the Liquor Museum in Dublin (1962)
A bottle of German wine called 'Affe' features an embossed monkey and another unusual piece is a lantern containing four triangular shaped bottles each containing a different liquor. There are also decanters in the shape of books which were popular in the early 19th century featuring,
The Spirit of Ireland, Scotland and England and so on...
Before leaving the museum PP O'Reilly has time to enjoy a drink from a gallon glass.
This episode of 'Broadsheet' was broadcast on 29 January 1962.