What is the standard of car servicing offered in Dublin? Five experts put three cars through tests at fifteen Dublin garages over a period of one week.
'Seven Days' carried out a survey of Dublin garages using three cars - a Volkswagen Beetle (1965), a Fiat 600 (1969), and a Ford Capri (1969). Each car was scheduled to go to five different garages over a week for a major service. The plan was to end the week with results from a total of fifteen garages. Key points were selected on each car to be tested by each garage.
A team of five experts set the tests. The experts included fully qualified mechanic Donald Sullivan, who carried out the preparation and checking of the cars. His work was supervised by three engineers - Andrew Penston a graduate of the Institute of the Motor Industry and the Institute of Automotive Assessors, Michael O'Doherty a consultant mechanical and electrical engineer, and James Lacey lecturer in electrical engineering at University College Dublin (UCD). Supervising all of these experts was Dr Seamus Timoney Associate Professor of Mechanical Engineering at UCD.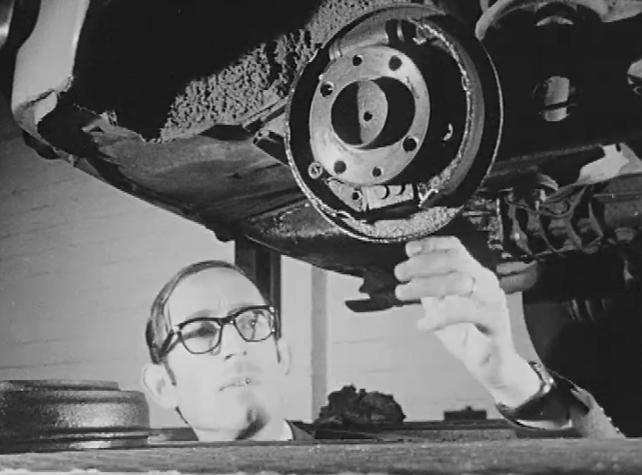 James Lacey carries out in inspection
It was their job to assess what work had been done on each car following a service. They also assessed the value of the work done on every car. The names of the garages where the services took place remained anonymous.
As the results came in from fourteen of the planned fifteen garages
Not one garage came near to covering all our six key points. Not one did what the manufacturer said they should do and not one did what their own bills claimed they did.
The results of the survey found that the definition of a "major service" varied at each garage, as did the cost and value for money.
This episode of 'Seven Days' was broadcast on 23 November 1971.