In the village of Shillelagh Jack Ryan who has been making shillelagh sticks all his life just as his father did.
The raw material for a shillelagh must be a hardwood, such as blackthorn, oak or holly. Once Jack Ryan has the right piece of wood for the job, it is prepared, cleaned and sand-papered. Making the shillelagh is hard work, as everything is done by hand, using a rasp, hatchet and saw. The finished shillelagh is then varnished.
The bulk of the work is bought by Americans as a souvenir of their native place. He does not thinks that bringing home a shillelagh gives the Irish a bad name abroad. Not all shillelaghs are offensive weapons and the sticks were originally carried by policemen. People today are more educated and do not need a stick to defend themselves.
They wouldn't know how to walk now, they wouldn't know how to handle a shillelagh.
Making shillelaghs is an enjoyable pastime for Jack Ryan as,
It shortens the long winter nights for you when you are sitting on your own. Just doing up the old blackthorns and tarrying in the daytime and doing them up in the night-time, that's the only hobby you have.
This episode of 'Hall and Company' was broadcast on 16 November 1986. The presenter is Frank Hall.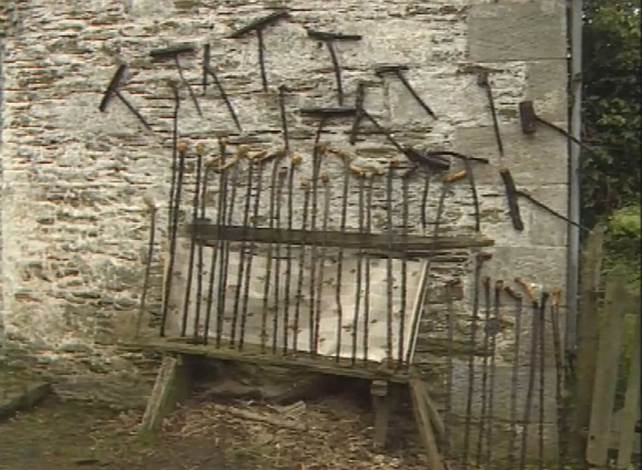 A display of Jack Ryan's shillelaghs.