A look at craftsmen from Ireland's leading bookbinders John F Newman & Son.
In a world of mass production, the firm of John F Newman works entirely by hand matching or even improving in quality the work of 18th century masters. The company continues to use skills dating back to the 16th century in Persia.
In this extract experts from the bindery put a myriad of conservation techniques to the test in the restoration of some ancient volumes from Marsh's Library.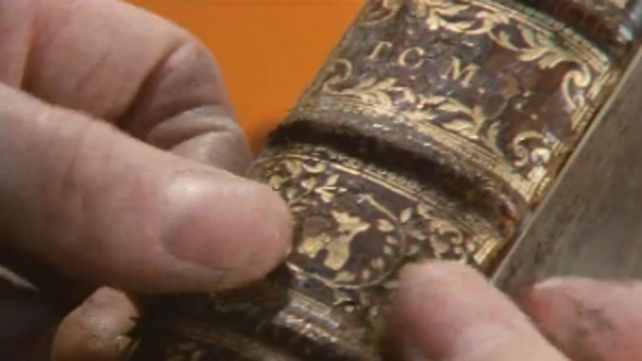 Hands : A Dublin Bookbinder (1981)
Bookbinding specialist Cathal O'Grady demonstrates how to clean old pages and proficiently removes the ancient decoration on an old binding. Expert Richard Ferns shows how paper pages can be repaired in some old and valuable antiquarian books using long fibred Japanese rice paper and explains how delicate pages can be reinforced for future generations. Using age old techniques a skillful Noel Dunne decorates bindings with gold leaf.
'Hands A Dublin Bookbinder' is introduced by the academic and architectural historian Dr Maurice Craig at Marsh's Library in Dublin. The programme follows step by step every detail in the fine binding of a book by hand, design, applying gold leaf, leather tooling to completion.
This episode of 'Hands: A Dublin Bookbinder' was broadcast on 10 July 1981.
'Hands' was directed and produced by David Shaw-Smith. Commentary is provided by Dr Maurice Craig. Music by Jolyon Jackson, Paddy Glacken and Martin O'Connor.