A special edition of 'It's Bibi' broadcast for Saint Patrick's Day featured guests Mary Trump and Frank Patterson.
Bibi Baskin travelled to the Trump Taj Mahal Hotel in Atlantic City where she met with Mary Trump, mother of Donald Trump.
During our stay here we were honoured to have the pleasure of meeting Donald Trump's mother.
The interview took place in a luxury suite on the 51st floor of the Trump Taj Mahal Hotel, where Mrs Trump had just had lunch with Irish singer Frank Patterson who also spoke to Bibi.
Mary Trump had long been a fan of Frank Patterson.
We have all his tapes, all his cassettes.
She recalls meeting Frank for the first time at Booth Memorial Hospital in New York, where he was performing and Mary was a patient in recovery after being mugged. She plans to go to Frank's concert later that day, and again at Carnegie Hall the following week.
Mary Trump talks about her Scottish origins, hailing from Stornoway on the Isle of Lewis, in the Outer Hebrides. Mary, formerly MacLeod moved to New York and married Fred Trump.
Frank Patterson, who also lives in New York, says that Mary's love for Irish music stems from her Scottish heritage. Since their first meeting Mary and Frank have remained friends and have worked on various charity events together.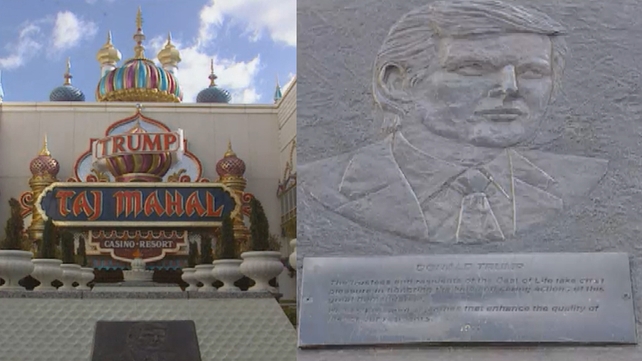 Trump Taj Mahal Hotel, Atlantic City and Donald Trump Plaque,
Speaking about the Trump family Mary explains that Donald couldn't be there to meet Bibi as he is filming with Steven Spielberg in Hollywood. She tells Bibi about her other children Maryanne, Frederick (recently deceased), Robert and Elizabeth. Frank Patterson describes the Trump family as
Wonderful people.
This episode of 'It's Bibi' was broadcast on 16 March 1994. The presenter is Bibi Baskin.