Michael Flatley's Lord of the Dance opens at Radio City Music Hall New York.
Lord of the Dance, an Irish music production created, choreographed, produced by and starring Michael Flatley opens at Radio City Music Hall in New York.
Lord of the Dance was first performed in Dublin in 1996 and since then it has been touring the United Kingdom, Australia and New Zealand grossing more than $100 million. Now the show has come to theatre land in New York where it is opening at the six thousand seated Radio City Music Hall.
An hour before show time the arriving audience is truly multinational although some have travelled from Ireland. Among the celebrities looking forward to the performance is Bijou Phillips.
Backstage the star of the show Michael Flatley is going through a warm up routine but is looking forward to the performance. One young woman is incredibly excited at the prospect of attending a live performance of Lord of the Dance. She sums up the appeal of the show,
Think about it fifty people that all put their feet in the same place at the same time for like an hour and half. You know it is kind of a thrill. I am really excited about it.
In a nearby hotel Michael Flatley's parents are presented with a crystal decanter from John Fitzpatrick. The Flatley's say Michael's talent probably came from his grandmother Elizabeth.
The opening night reviews were fulsome in their praise of the show. The New York Post described Michael Flatley as a,
Chicago leprechaun who had opened up a new world for dance.
Speaking after the show Michael Flatley said,
Opening in Radio City it doesn't get any better than this. It is fantastic.
Backstage with Michael Flatley, Marla Maples and Donald Trump told RTÉ News how much they had enjoyed the show.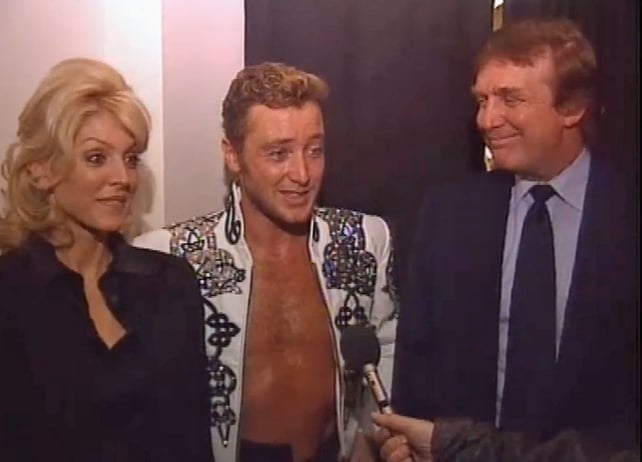 Backstage with Marla Maples, Michael Flatley, and Donald Trump
An RTÉ News report broadcast 7 March 1997. The reporter is Colm Connolly.