Exploring the Temple Bar area of Dublin for the programme 'Summer Express'.
Over the past 15 years much of the Temple Bar area in the heart of Dublin was targeted by CIE as the location for a new central bus station. However, all that changed when the buildings were leased to people who had other ideas for the area.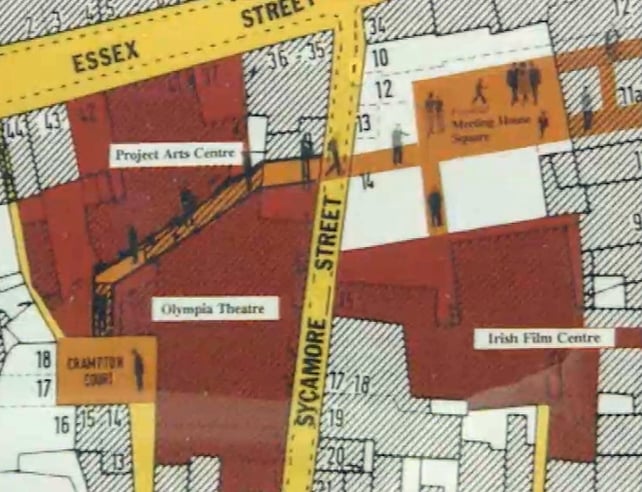 Map of Temple Bar (1991)
Bríd Óg Ní Bhuachalla meets Architectural Historian Peter Walsh to find out more about the history of this 45 acre area. The history of Temple Bar goes back to the middle of the 17th century when land was a premium and Dublin began to expand at a phenomenal rate. According to Walsh the Temple Bar area was just one of many speculative developments at that time. He goes on to describe the area at that time as a place,
Where purses and throats were slit in the twinkling of an eye.
In the 18th century it became a financial and banking area. In the 19th century it changed faces again and became run down. Walsh goes on to describe the remnants of the past that still exist in Temple Bar and can be seen if you look hard enough. From the little dolphin on the Dolphin Hotel, and the old Presbyterian meeting house at 11a Eustace Street, to numbers 3 and 4 Fownes Street reminiscent of 17th century France. Walsh also anticipates further change in the area saying
I look forward to its renaissance yet again.
Bríd Óg visits STS Recording Studios and gets a sneak preview of Luka Bloom's new album. It's then on to the Temple Bar Gallery and Studios to see the sculpture animation 'Aluminium Jelly' by Tina O'Connell.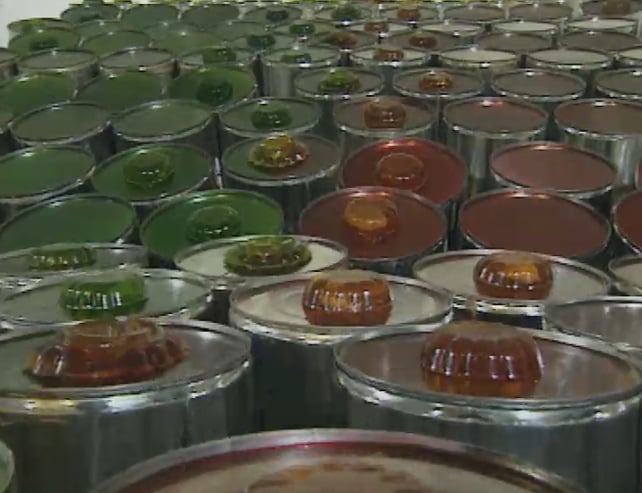 Aluminium Jelly by Tina O'Connell
Bríd meets the director Ruairí Ó Cuiv who describes the experimental nature of artistic activity that goes on at the gallery. The gallery also offers people the unique opportunity to visit a space where they can see artists at work, a view that is reinforced by artist Margaret Tuffy.
On Eustace Street we get a look inside what is soon to be a Centre for Film Culture, the flagship project of Temple Bar. Laura Magahy, Chief Executive of the Irish Film Centre, takes Bríd on a tour of building which will house two cinemas, a bar, a restaurant, conferencing and media education facilities and the National Film Archive.
Back at the Sound Training Centre Edith Tynan describes what it's like to be based in Temple Bar.
On to the world of theatre with the Olympia, established in 1830 and the Project Arts Centre which is celebrating its 25th anniversary. Tim O'Neill of the Project Arts Centre talks about the possibilities for the future of Temple Bar and how the arts can spearhead the rebirth of the area.
This episode of 'Summer Express' was broadcast on 25 June 1991.