A part-time volunteer fireman loses his job as a cinema projectionist after missing work to fight a fire in Kilkenny.
On 12 July 1970 one of the most devastating fires in Kilkenny's history swept through the main street of the city. The fire destroyed the premises of grocers Daniel Smithwick and Company and furniture store James Lowry and Sons. In total an acre of prime business property was wiped out, with seven fire units from throughout the county joining forces to contain it.
The firemen risked their lives to control the fire. One of these men was John Barry, a part-time volunteer fireman. He was employed as an assistant projectionist at the Savoy cinema in Kilkenny when news of the fire broke. He immediately went to assist with fighting the blaze. However, for playing his part in fighting the fire he lost his job after failing to turn up for work at the cinema.
John Barry tells 'Newsbeat' about the fire, losing his job and his inability to find alternative employment.
At first John Barry was suspended and later was told he could return to work but only if he left the fire service. He turned down the offer and almost a year after the fire he has yet to find another job.
I have a feeling that just because I'm in the fire brigade no one wants me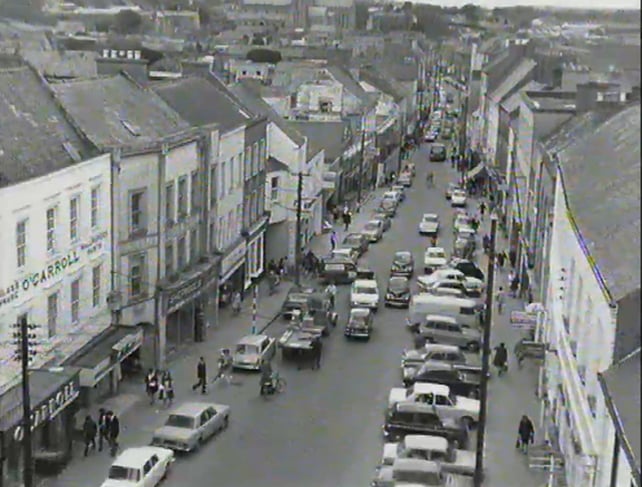 Kilkenny, 1971
Kilkenny Fire Chief Hugh Corrigan also spoke to 'Newsbeat' about the prejudice held by employers against anyone involved in the fire service due to the fact that at any time they might down tools to go to assist in fighting a blaze.
Hugh Corrigan describes the 1970 fire as the most serious fire in Kilkenny in his experience and says that on the day the fire service needed all the help it could get. The answer to this dilemma is to provide a full-time fire service at the expense of the rate payers.
A 'Newsbeat' report broadcast on 21 April 1971. The reporter is Michael Ryan.