Could the fire which broke out on St Valentine's Day killing 48 people and seriously injuring a further 128 have been started deliberately?
It has been reported that somebody was playing with matches on the night in question. Assistant catering manager at the Stardust Teresa Marley and her daughter Liz Marley, also a Stardust employee deny this and give an account of what they saw on the night.
Liz Marley first got an inkling something was wrong in the nightclub when she smelled smoke. Both women agree the fire started in a part of the club that was closed off and was not busy. They noticed two seats blazing and really cannot comprehend how quickly the fire escalated. When the women left the building Liz says,
There was more panic outside I think than there could have been inside. There were hundreds of people trying to get back in to their friends and girlfriends and everything they thought they could help them inside. People getting out and people coming in, it was just chaos at the doors.
Teresa Marley knows there were at least 775 people in the Stardust on that fateful night, as everyone entering the club had to purchase a meal ticket from her.
The government inquiry into the fire has a number of issues to examine; the allegations that somebody was setting fire to the seating; whether the emergency exits were open and whether the emergency lighting in case of blackout was independent of the power system.
An RTÉ News report broadcast on 15 February 1981. The reporter Charlie Bird.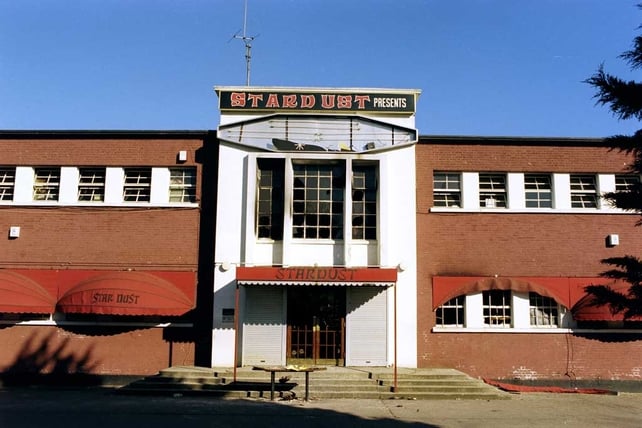 The Stardust (1981)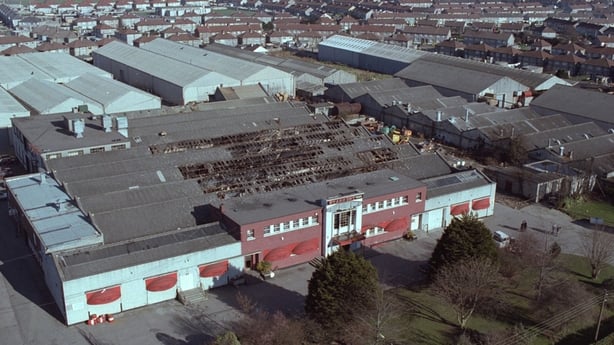 Stardust nightclub after fire (1981)
An aerial view of the Stardust nightclub on Kilmore Road, Artane, County Dublin, on 16 February 1981. Photo by Des Gaffney.