One of Limerick city's oldest stores Goodwins on William Street is destroyed by fire.
The building was the premises of one of Limerick's oldest businesses Goodwin and Co Ltd, a glass and china merchants, who had been located there for 131 years. Valuable glassware, chinaware and jewellery were also destroyed in the fire.
This footage shows fire services fighting the fire as sections of the road are cordoned off. The fire also spread to adjoining buildings causing extensive damage.
In the space of a half an hour the whole premises were completely gutted.
The following morning, an RTÉ News reporter was on the scene to assess the extent of the damage caused. The fire at Goodwins was the fourth biggest fire in Limerick since 1948 when Roche's Stores was destroyed.
Garda Donal Gallagher raised the alarm after seeing smoke coming from the premises while on patrol on William Street.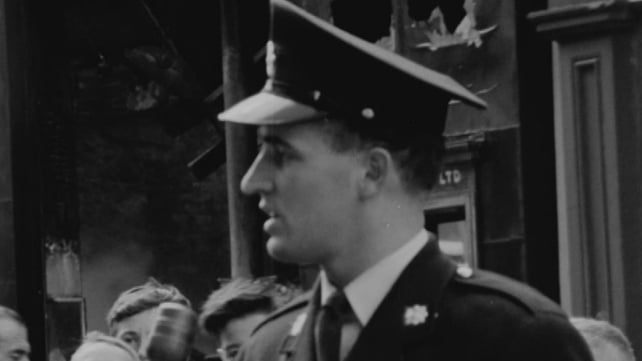 Garda Donal Gallagher (1963)
I saw smoke coming out through the three top windows and I immediately notified the Fire Brigade and they were on the scene within minutes.
An RTÉ News report broadcast on 24 July 1963. The footage shown here is partly mute.