The old Potato Market has been restored and is being given a news lease of life thanks to the Limerick Civic Trust.
Limerick got its first charter as a city in 1137, then the medieval settlement of Englishtown. On one corner of King's Island is the site known as the Potato Market, which is reportedly the original site of the city of Limerick when it was founded by the Danes in 922.
The Potato Market is the latest jewel in the crown of the Limerick Civic Trust.
The Limerick Civic Trust is a voluntary body set up in 1983 with the objective of restoring and preserving the ancient and historic sites of Limerick.
A new pedestrian bridge, the 'Sylvester O'Halloran Bridge' has been built to link the Potato Market with the Custom House Quay. The bridge is named after a Limerick-born surgeon who pioneered cataract surgery.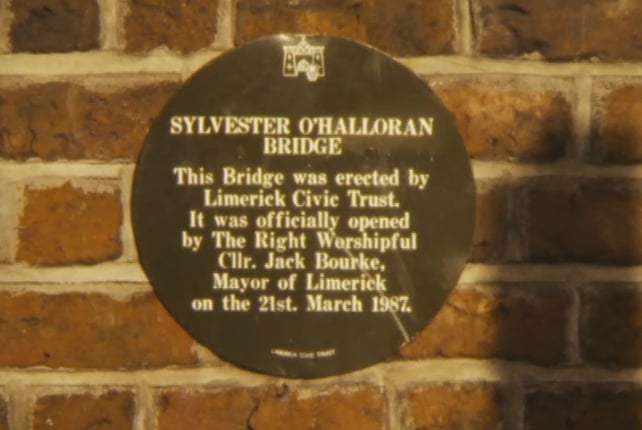 Sylvester O'Halloran Bridge, Limerick Potato Market (1987)
Denis Leonard of the Limerick Civic Trust talks about the tradition of markets in Limerick and the work involved in restoring the market over a period of three years at a cost of almost £400,000. The newly restored market is intended for both locals and tourists.
It was a huge job. It was very derelict.
The Potato Market was originally opened in 1843 but fell into disrepair and disuse in the early 20th century. The restoration work was carried out by skilled craftsmen and AnCO trainees.
John Cosgrove remembers selling potatoes at the original market in 1925 and is delighted to see the new development. There are now plans to broaden the activities that take place at the Potato Market including hosting music festivals and open-air theatre.
This episode of 'Evening Extra' was broadcast on 7 December 1987. The reporter is Shay Healy.
'Evening Extra' was a nightly magazine programme which ran from Monday to Friday at 7 pm dealing with current issues and people in the news. The first episode was aired on Monday 13 October 1986 and it ran for 278 shows over 2 years until the final show on 29 April 1988. The programme had numerous presenters and reporters including Siobhan Cleary, Richard Crowley, Bibi Baskin, Aonghus McAnally and Shay Healy.