A profile of Ireland's family of puppeteers, The Lamberts.
A visit to the Lambert family home in the outskirts of Dublin. The Lamberts are involved in the business of puppet making.
Eugene Lambert describes how he got into puppeteering as a young boy.
I suppose I was only ten or eleven years of age when I first discovered I was a ventriloquist, having first convinced my family that I was a nut-case by asking them where my voice was coming from.
Eugene Lambert recalls making his first puppet Charley at a young age and developing an act which he performed firstly for the boy scouts. He then began touring Ireland and England with his puppet Frankie. Frankie later became known as Finnegan and was popular on the cabaret scene before getting his own radio programme.
As Eugene Lambert's family grew, so too did his act with the addition of new puppets and puppeteers. A television career was to follow with Eugene Lambert playing O'Brien in Wanderly Wagon and developing children's characters like Bosco.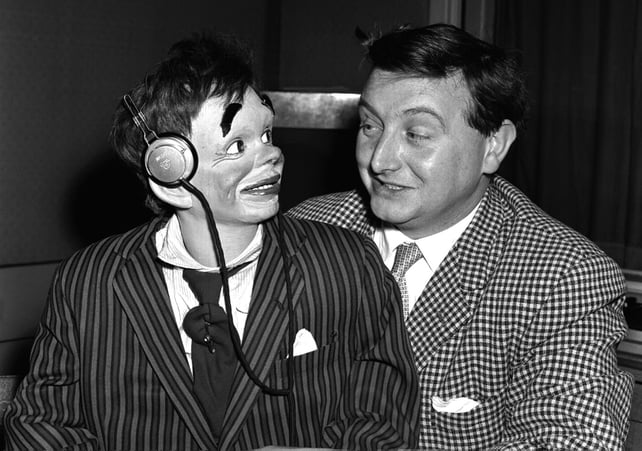 Eugene Lambert with his puppet 'Finnegan' in 1962
As the Lambert family grew so too did their involvement in the business. Eugene's wife Mai describes the various roles that the family play in the business. The Lambert children - David, Miriam, Stephen, Liam, Paula, Noel, Jonathan and Conor are all involved in the productions from design and costume, to sound and lighting. The Lambert Puppet Theatre was established in 1972 in Monkstown, county Dublin.
'The Lambert Family' was broadcast on 26 December 1975.