Philp Huber known as the Master of Marionettes brings the art of puppetry to Ireland.
Philip Huber is a puppet artist who has crafted each of his marionettes by hand, often inspired by music. As such, he has earned the title as The Master of Marionettes.
Hidden in the shadows, he makes his marionettes come alive.
Huber's skills have also made it onto the big screen in Spike Jones' film 'Being John Malkovich". Commenting on his part in the film, Philip says it was a challenging project.
They were asking for movements that I thought were impossible.
Ronan Tully, Artistic Director of Ireland's International Puppet Festival, comments on the challenge for the festival in appealing both to adults and children.
Huber learnt his craft in shows at Le Lido in Paris, and the Casino in Monte Carlo, where there were no children.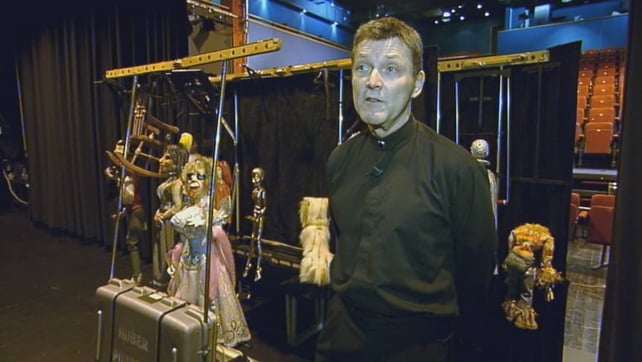 Puppeteer Philip Huber
The International Puppet Festival is focusing on puppetry for adults, but there are shows for all ages.
An RTÉ News report broadcast on 18 September 2008. The reporter is Laura Fletcher.