The Irish economy is in steady decline and the outlook is bleak.
Michael Ryan outlines the state of decline of the economy in Ireland in the 1970s. Unemployment is at 300,000, the worst since the war. Traditional jobs such as textiles are now declining due to pressure from the EEC and other free trade competition. New industries and investment from abroad are also in decline. Irish exports are down 7% and in terms of productivity the Germans are twice as efficient as us.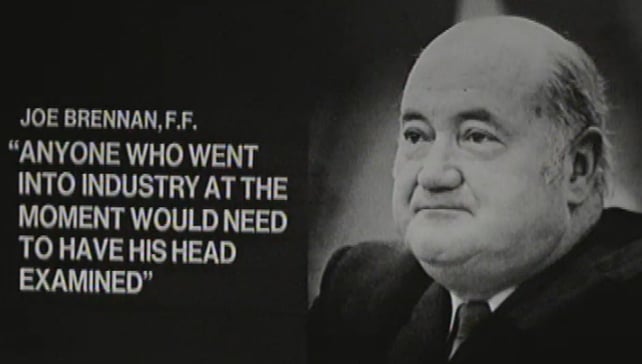 7 Days 1975, Joe Brennan
With inflation now at 23.9%
Every pound you earn will buy you nearly one quarter less than it did this time last year. It's the money disease and we suffer more of it than any other country in Europe.
In terms of government borrowing the national debt stands at £2,700,000,000.
The country is now up to its neck in hock like it's never been before.

This '7 Days' report presented by Michael Ryan and John O'Donoghue was broadcast on 16 December 1975.