How does the man on the street go about investing in the Dublin stock exchange?
Brian Cleeve visits the Dublin Stock Exchange providing a history of the institution. While the ordinary man or woman in the street has no direct dealings with the Stock Exchange, the daily activities that go on there directly affect almost everyone.
Much of the money paid into banks and pension schemes is invested in stock and shares, and as such, what happens at the Stock Exchanges on Dublin's Anglesea Street should be very much the concern of the ordinary man or woman.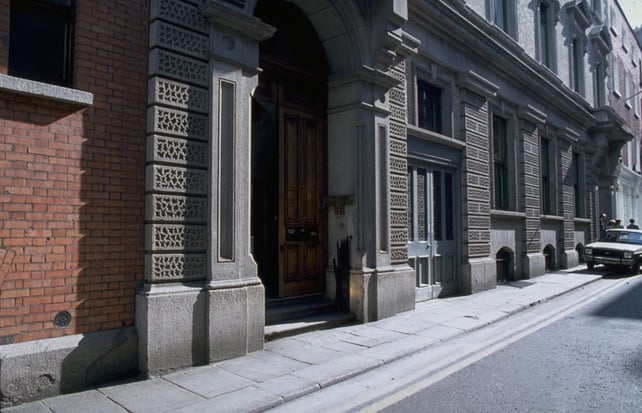 Dublin Stock Exchange on Anglesea Street
How can ordinary people invest in stocks and shares?
You don't have to be rich to invest in stocks and shares. All sorts of people do...There are 18,000 shareholders in Guinness, 11,000 in Imperial Tobaccos, 3,000 in Woolworths, and many tens of thousands hold various kinds of government stock.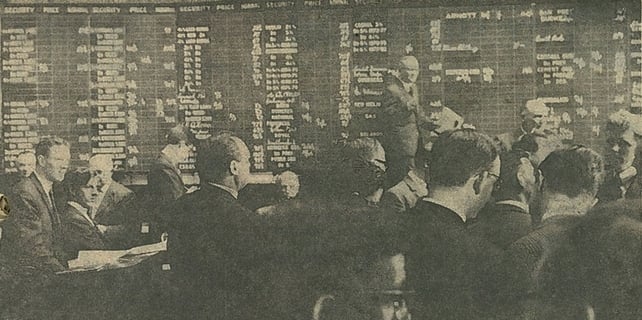 The bustling scene in the Dublin Stock Exchange
In 1965 there were 32 stockbroking firms licenced to deal on Dublin's Exchange, and most are located in the vicinity around College Green.
Visitors can view the workings of the Dublin Exchange from a public gallery, the first of its kind in the world.
With the ringing of the bell, trading begins with prices chalked up on a board on the basis of activity on the floor of the exchange.
This episode of 'Discovery' was broadcast on 21 May 1965. The reporter is Brian Cleeve.

Dublin Stock Exchange Daily List