The Irish and British stock exchanges merge and women are permitted to conduct business on the exchange.
The United Stock Exchange, merging British and Irish exchanges, started trading on 26 March 1973. With the Dublin Exchange in session, RTÉ reporter John McAleese talks to Donal Goodbody, President of the Irish Stock Exchange, about the merger, the benefits to investors, and the independence of the Irish Stock Exchange.
The concept of the single organisation was to bring all the stock exchanges within Great Britain and Ireland into one single body which will have uniform rules throughout every broker's office wherever they are situated.
Under the new exchange, brokers will be able to relocate to any other location in the territory.
A milestone in a two hundred year career of stockbroking.
Brokers first began operating in Dublin in 1793 and in 1799 they were formalised by an Act of Parliament under which they still operate. Mr Goodbody emphasises that the merger does not mean that the Republic of Ireland is giving up its national status and the stock exchange floor in Dublin will continue to operate. The Irish Minister for Finance will continue to issue licences for brokers wishing to carry out business in Ireland.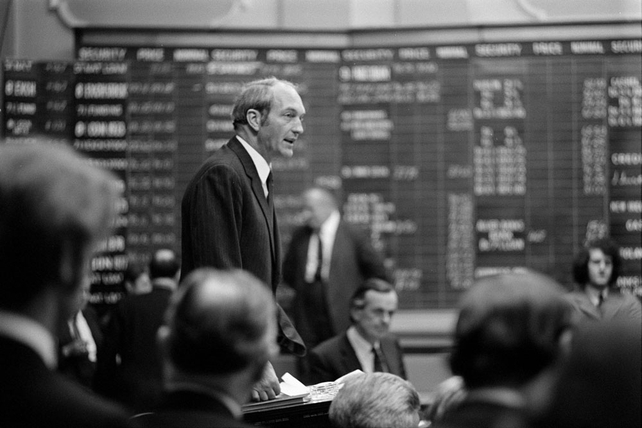 Fianna Fáil Minister for Finance George Colley addressing the Stock Exchange (1972)
An RTÉ News report broadcast on 26 March 1973. The reporter is John McAleese.