Ten years after joining the EEC what has membership done for Ireland and what contribution has Ireland made to Europe?
In 1973 Ireland, along with the United Kingdom and Denmark, joined the European Economic Community (EEC). Ten years on, 'Today Tonight' examines the impact that membership of the community has had on Ireland.
Interviews from the time reflect people's hopes, aspirations, and fears ahead of joining the EEC and the common market. Ireland's entry to the EEC was decided by referendum with 83% of the electorate voting to join.
If we're not in it, we're out on a limb, we're on our own.
I think it would be suicide for us if we didn't go into it.
Ireland joined the EEC largely in a spirit of optimism with an expectation of higher standards of living, higher prices for agricultural products, new industrial markets, and more jobs. Una Claffey examines whether the reality of membership has lived up to expectations.
The idea of a United States of Europe arose from the devastation of the Second World War.
The Organisation for European Economic Cooperation was formed to implement the US Marshall Aid Plan. In 1950, French Foreign Minister Robert Schuman proposed the establishment of a European Federation which was the beginning of what we know as the EEC. Schuman's proposal led to the formation of the European Coal & Steel Community integrating the coal and steel industries of France, Germany, Belgium, Italy, Luxembourg and the Netherlands. In 1957, the process of integration took a step forward with the Treaties of Rome. In January 1973 the community expanded from six to nine members with the inclusion of the UK, Denmark, and Ireland. In 1981, Greece joined and negotiations are now underway for the entry of Spain and Portugal.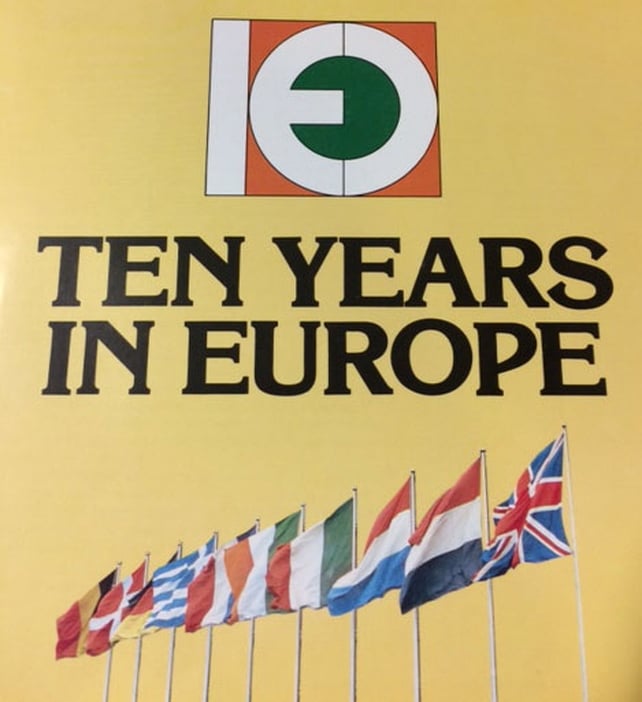 Community Report published by the Irish Office of the Commission of the European Communities
Reporter Una Claffey looks back at the foundation of the community and what the future holds for the common European market with contributions from Gaston Thorn President of the Commission of the European Parliament, and commissioners Brendan McNamara, Eamon Gallagher and Dr Tom Dwyer on whether the promises of the common market have been realised.
Gaston Thorn, comments on the future of Europe and the need for a second generation European community. For Brendan McNamara, Ireland's development could only be achieved within the network of a widening world market as part of Europe.
It was this kind of thinking that inspired the referendum campaign. Above all, the most attractive factor in joining Europe was the potential market it offered to farmers. This report features archive footage of the campaign trail ahead of the referendum on both the yes and no sides.
This episode of 'Today Tonight' was broadcast on 10 January 1983. The reporter is Una Claffey.