Two bombs exploded in Birmingham on 21 November 1974, killing 21 and injuring 182.
A hospital surgeon and eye-witnesses describe the carnage in this RTÉ Radio report from the following day. The bombs were planted in two pubs, the Mulberry Bush and the Tavern in the Town, both of which were destroyed. The image above shows the interior of the Mulberry Bush. (Getty Images)
The IRA (Irish Republican Army) were blamed for the attack. Reporter Barry Linnane in Birmingham tells Gerald Barry in the Dublin studio about the backlash against the Irish community that has already started. He says there are about 110,000 Irish in the city, accounting for about 10% of the population. Up to now they have been tolerated, but now Irish people are afraid to go to work because of the hostility.
Six Irishmen were arrested and convicted of the bombings: Hugh Callaghan, Patrick Hill, Gerard Hunter, Richard McIlkenny, William Power and John Walker, known as the Birmingham Six. They appealed and had their convictions quashed in 1991.
An RTÉ News report broadcast on 22 November 1974. The reporter is Barry Linnane.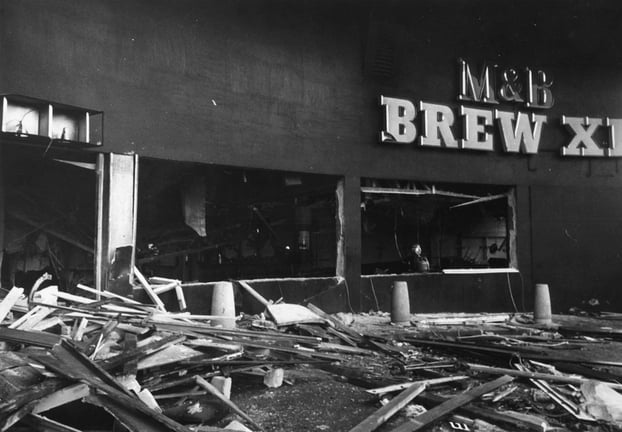 The Mulberry Bush in Birmingham, after the bombing. Getty Images